JOIN US FOR
Black Friday

AT ANDLIGHT

Black Friday 2020 will be the biggest Black Friday ever! We celebrate with offers of up to 60% on our designer lamps. Sign up to our newsletter and be the first to receive our offers! Sign up and see what we have lined up for you before Black Friday 27.11.2020.

We open early to fantastic offers for you! All you have to do is enter your e-mail in the "Black Friday Reminder"-field below and press "Sign up". Then we will send you a reminder and offers before everyone else!
Black Friday 27 November 2020!
AndLight opens the door to Black Friday on 27 November 2020. Black Friday at AndLight means fantastic offers on our many designer lamps.
Put it in your diary - for this year's Black Friday takes place online and in our AndLight store from the night between Thursday 26 November and Friday 27 November 2020 and continues for 24 hours hereafter.
Designer lamps on offer
AndLight gives you the chance of getting nice designer lamps on offer on Black Friday. On Black Friday you will find offers on lamp brands such as FLOS, Lampe Gras, Verner Panton and many other well-known lamp brands.
Black Friday originates in the US and has made its way to large parts of the world during the past ten years. Today, Black Friday has become the largest sales day in the world. Therefore we strive to create the very best Black Friday here at AndLight so that you can purchase your desired designer lamp on offer. Friday 27 November will therefore be the day that you can buy your new pendant or table on offer or the day you use Black Friday to jumpstart the Christmas shopping at even better prices than usual.
Extended returns
For Black Friday, AndLight has decided to extend our returns, so that all lamps bought on Black Friday and up until Christmas Eve 24 December can be returned up until Friday 8 January 2021.
The story behind Black Friday
Black Friday falls on the day after Thanksgiving and is seen by Americans as the beginning of the Christmas sales. The name "Black Friday" originated from the massive traffic one would experience in the bigger American cities right after Thanksgiving. Later on, the expression has been used to explain how Black Friday would be a turning point for store owners, as it is the day deficit becomes profit – leading to black numbers on the bottom line.
Remember Black Friday 27 November 2020!
Mark 27 November 2020 in your calender, because you wouldn't want to miss out on one of the biggest days of sale! Check out AndLight.com and find amazing offers on design lamps. The sale will only run for 24 hours so if you love it - buy it! Don't hestite or you might miss out on finding your dream lamps at amazing prices. We cannot wait to welcome you to AndLight's Black Friday SALE!
Black Friday 27.11.2020 - Popular Lamps and Lamp Types
Black Friday Offers on pendants at AndLight
Quality pendants at really great Black Friday prices, buy your next designer pendant at AndLight.
Finding the perfect Pendant lamp for your home is crucial, especially over the dining room table the right pendant is of the essense, as the right light sets the mood. Therefore we have compiled a guide of all our best trade secrets, making it possible for you to choose the perfect pendant and how to hang it over your dining table.
AndLight has a very large selection of pendants, so you will be spoiled for choice when buying your lamp from us. There are many things to consider when buying a lamp, including size, combinations, lighting direction, deciding whether it should be direct or indirect light, the materials, the glow - cold or warm - and much more...
Here are some examples on popular pendants and their functions.
The Secto Octo 4240 this gorgeous pendant is made of Finnish Birch veneer. Due to the openness of the lampshade it gives off a warm and airy light. The incredibly pleasant and elegant light streams through the slats of the lampshade and this adds an amazing atmosphere to the room it hangs in. The Octo 4240 pendant lamp from Secto is available in four colours: Black, White, Birch and Walnut. For this pendant we recommend a warm, dimmable LED light source, as this will really allow the lamp to shine.
Flos 2097 The Pendant Series offers a unique and elegant chandelier, it comes in two sizes, both available in Chrome and Brass. This chandelier is streamlined, yet light and dream-like. The Flos chandelier offers absolutely stunning light and is available with either 30 bulbs (small) or 50 bulbs (large). MAX 15 watt bulbs.
The stunning iridescent pendant from Luceplan, the Hope pendant, is an extremely popular lamp in a shining design that resembles a diamond. Luceplan is known for stressing three factors when designing their lamps: Experience, Research and Innovation. It is clear that the Hope pendant is a product of this design philosophy, as the designers have focused on how light influences our well-being. The long, dark Scandinavian winters often lead to melancholy, so as a "cure" the designers have created a lamp that celebrates light in the most life-affirming way possible.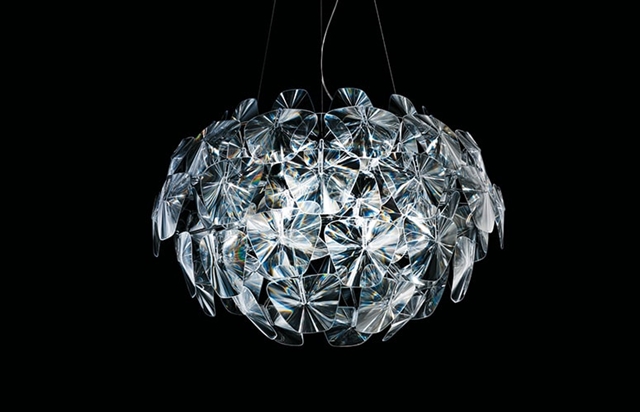 Find your new table lamp on offer on Black Friday 27.11.20
New table lamp? Find designer table lights at competitive prices at Andlight. To end up with the perfect table lamp it is important to focus on functionality, design, and size. Once you have figured out your needs, its easy to locate our more functionel lamps - and of course also the more decorative ones, and if you need help we are right here - just give us a call or send us an email.
One of the more functional lamps, which by the way has a stunning design (!), is the Lumiere Piccolo Table Lamp from Foscarini. The lamp has an incredibly efficient and functional light. It makes it the perfect choice for your home office desk, or for a dark nook - and with a light dimmer, you can even use it as a golden night light. The table lamp from Foscarini comes in two sizes, the stand is availble in three colours, and the lamp shade comes in a variety of decorative colours.
Of course, when it comes to table lamps, size does matter, as this will determine where the lamp will fit in and how it will look in the designated space. If you are in need of a smaller table light, the dimmable MENU JWDA might be the perfect choice. It is a simple, yet playful lamp that comes in many colours, and it has a really userfriendly light dimmer at the base.
Of the larger table lamps, the Flos Gatto table lamp, is worth highlighting. Because of its shape and design, the large designer lamp scatters a comfortable light in the room. The table lamp is available in two sizes: Flos Gatto, the large version, and Flos Gatto Piccolo, the small version.
In addition to this, the design is of course an important factor for your interior design - that is why it is so important to find a lamp that will look great in its designated space, whether this is on a shelf, a counter, the home office desk, in a windowsill or wherever you might fancy.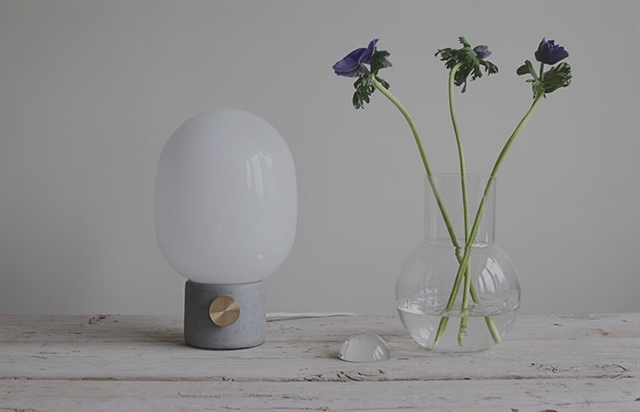 Buy Floor Lamps on offer at Black Friday prices from AndLight on 27.11.20
Stunning floor lamps of the highest quality. When it comes to choosing light for your interiour design, the perfect choice will often be that which combines functionality and beauty. When deciding upon the perfect floor lamp or standard lamp, it is important to facture in hight, wide, and, of course, functionality.
One of the most popular standard lamps is the Muuto Pull floor lamp. The one and a half metre tall standard lamp has a beautiful clean design. The lamp shade is 31.5 cm and is made from textile covered plastic. The lampshade can either hang loose - a very unique feature - or it can be attached to the stand, which gives the lamp a more upright light.
The Danish designer Tom Rossau, has designed the floor lamp TR7 which adds great elegance and warmth to any space. Made from natural materials, such as birch wood, the lamp is the perfect fit for a Scandinavian decor, and from within it casts a soft light. The lamp is available in two size: 117 cm tall (small) and 148 cm (large).

The Oslo Wood standard lamp from Northern Lighting is inspirered by light shining through the branches of trees. The lampshades are turned upward to symbolize light over the treetops. A lamp inspired by nature with a great upward light.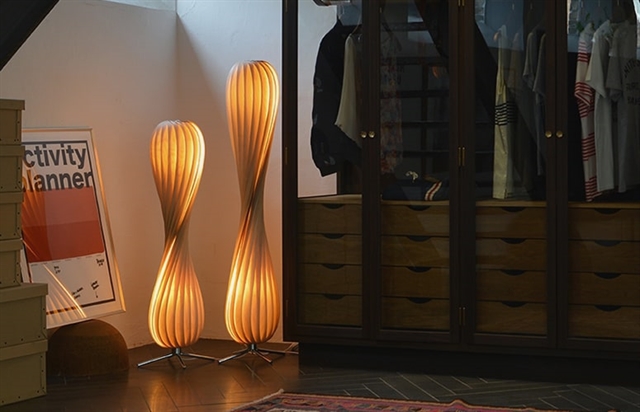 New Wall Light on offer for Black Friday? Buy designer wall lights on 27.11.2020
Buy your wall lamp at AndLight. With over 800 different wall lamps you will surely find one that meets all your requirements.
The Flos 265 is a unique and hightly flexible wall lamp. The 205 cm long arm allows you to direct the light to your specific likings. The popular wall lamp from Flos has a minimalist design and adds character to any room. It is available in White, Black, and Grey.
Lampe Gras N304 is a design classic, designed by Bernard-Albin in 1921. A highly functional lamp that with its IP65 classification is the ideal choice for a bathroom, kitchen or elsewhere with high humidity.
With the Spot wall lamp from Vipp you get timeless design that offers the best possible light for your bathroom, bedroom, or hallway. Its clean design and excellent light makes it the perfect wall lamp. Vipp's designs are functional and beautiful and are menat to last for decades.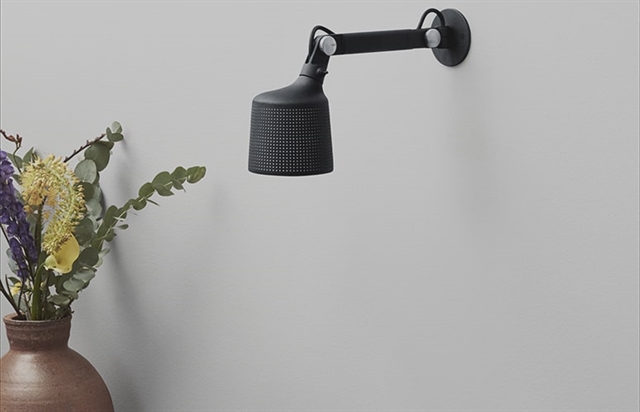 Black Friday (27.11.20). Lamp and Lighting Brands at AndLight
Black Friday with designer brands at AndLight. Buy designer lighting, lamps and lightbulbs on offer at AndLight on 27.11.2020 for Black Friday.


Flos Black Friday Offers
Black Friday Flos Lamps. We celebrate Black Friday and sell Flos lamps at greatly reduced prices. The Italian lighting design brand, Flos, designs high end quality lights. This Black Friday, we will be lowering the prices on some of the best-sellers such as the Flos 2097 chandelier ceiling lamp, Flos Gatto table lamp, Flos 265 wall lamp, Flos Glo-Ball S2 pendant and many others.

Italian lamp giant FLOS has given us numerous brilliant designs. The company has a long history and has been leading in light installations and popular lamps for private and professional use for many years. The brand has collaborated with some of the most skilled designers of the world, e.g Phillippe Starck, Patricia Urquiola and Gino Sarfatti. If you're looking for aesthetics, functionality and timelessness you are sure to love the brilliant and impressive lamps from FLOS! For Black Friday, you can save a lot of money on lamps from FLOS.



Secto Offers for Black Friday
Black Friday Secto Lamps. Quality lamps from Secto this Black Friday at great prices. We will be lowering the prices on designer lamps from Secto, and will be offering topsellers like Secto Octo 4240 pendant lamp, Secto Octo 4231 wall lamp, Pendant Secto 4210, Secto Atto 5000 and many others at greatly reduced prices on Black Friday 27.11.2020.

Finnish brand Secto makes handmade lamps of Nordic wood. All lamps are manufactured by professional furniture makers and Secto values sustainability and quality highly. The brand is best known for their iconic lamp, the Secto Octo 4240, that quickly became an international success. Save money and find offers on the Octo 4240 and many other handmade designer lamps in different types of wood from Secto.



Tom Dixon Offers for Black Friday
Black Friday Tom Dixon Lamps. Bestsellers like the Tom Dixon Copper, Tom Dixon Melt, Tom Dixon Stone, Tom Dixon Etch, wall lamps, pendants, floor lamps, table lamps and much more - at greatly reduced prices this Black Friday 27.11.2020 at AndLight.

Tom Dixon is one of the wildest and most adventurous brands that we sell. The self-taught British designer manages again and again to create freaky and fascinating products, e.g. his Melt series that rewrote the rules for surface treatment of glass. Tom Dixon lamps are modern, timeless and challenging. Any design lover shoud have a Tom Dixon lamp in their house. Find good offers and save money on Tom Dixon designer lamps on Black Friday!



Verner Panton Offers for Black Friday
Black Friday Verner Panton Lamps. Black Friday SALE 27.11.2020 on Verner Panton classics, design lamps, like Fun 2DM pendant, Globe Pendant, Globe Brass, Fun 1DM pendant lamp, Fun 2TM table lamp, Spiral SP01 Pendant lamp, Moon Pendlant and many others. Buy your new Verner Panton at AndLight this Black Friday.

As one of Denmark's most well-known and recognised designers, Verner Panton was a true Danish design icon. Panton's brilliant designs such as the Globe and Fun are known around the world for their timelessness and good finish. Even though Verner Panton himself is sadly not among us anymore, he lives on in his designs and fantastic lamps that are fortunately still sold by the company Verner Panton. Find good offers on Verner Panton and find new inspiration on Black Friday at Andlight.



&Tradition Black Friday Offers
Black Friday &Tradition Lamps. Quality lights from AndTradition this Black Friday at AndLight. Flowerpot VP4, FlowerPot VP3, Flower Pot VP2, Flowerpot VP1, Milk NA1 table lamp, Blown ceiling lamp, and many more on SALE this Black Friday at AndLight. Buy your new &Tradition lamps at AndLight on Black Friday.

The up-and-coming Danish design brand &Tradition is becoming increasingly popular and it's not difficult to see why. With their beautiful and original designs and revivals of old Danish designs, &Tradition manages to fusion the old and the new. &Tradition has a large selection of lamps but their most popular design is without doubt the Flowerpot lamp which is available in numerous colours and versions. Find offers on the Flowerpot and many other models from &Tradition on Black Friday 2020 at Andlight!




MENU - Black Friday Offers
Black Friday MENU Lamps. The JWDA table lamp, Carrie LED table lamp, MENU TR E27 LED Opal Glass Bulb, MENU Chamber Chandelier 97, 76, Franklin Chandelier, Walker wall light, Staple wall light and other MENU lamps and lightbulbs at AndLight on Black Friday 27.11.2020.

Danish brand MENU creates simple, beautiful and timeless lamps made of great materials. MENU's mission is to make it a little more beautiful to wake up to everyday life and looking at their fantastic designs does make you happy! MENU has something for every taste and every budget. They favour materials like brass, ivory, marble and bronze. Hence, MENU lamps are pretty much always eye-catching and impressive. However, the brand also offers more discreet and quiet designs. You can find great prices and fantastic offers on MENU on Black Friday at AndLight.




Lightyears Black Friday Offers
Black Friday Lightyears Lamps. On Black Friday 27.11.2020, AndLight will offer greatly reduced prices on Lightyears. Buy the Kaiser Idell 6718 wall lamp, Kaiser Idell 6631 table lamp, Caravaggio Read floor lamp, Caravaggio Read wall lamp, Night Owl table lamp, Orient P1, P2, P3, Pendant lamps, Calabash and many more at AndLight on Black Friday.

Lightyears is a fantastic and innovative Danish brand that has been merged with Fritz Hansen. Lightyears has created many innovative and different lamps through the years which has earned them a rise to stardom within the Danish lighting community. Particularly models like the Kaiser Idell, Caravaggio and Orient P1, P2 and P3 have impressed design critics and consumers in Denmark and abroad. Lamps from Lightyears are often reasonably priced but on Black Friday you can really get a Lightyears lamp for cheap. Keep an eye on lamps from Lightyears on Black Friday and save money!



Foscarini Black Friday Offers
Black Friday Foscarini Lamps. The Foscarini Lumiere Shade, Caboche Pendant, Lumiere table lamp, Rituals pendant, table lamps, ceiling light and many more offers on Black Friday on quality design lamps from Foscarini.

Italian brand Foscarini has been synonymous with quality, decadence and innovation. Foscarini has collaborated with many skilled designers and is a recognised design house worldwide. Foscarini has created famous and beautiful lamps like the Caboche, Lumiere and Twiggy that all have sold well in the past couple of years. Especially the Caboche pendant, designed by Patricia Urquiola & Eliana Gerotto, has acheived stardom internationally. The lamp can be seen in almost all lamp outlets in Copenhagen and also appears on TV, e.g. in the popular TV series Modern Family.



Gubi Black Friday Offers
Black Friday Gubi Lamps. Gubi lamps on Black Friday Offer. The Bestlite BL5 wall light, GUBI Multi-Lite pendant, Bestlite BL7 wall light, Gubi Cobra, Bestlite BL9L, Gubi Semi, Gubi Tynell and many more classics in great materials. Offers on quality brands this Black Friday at AndLight.

Another fantastic Danish brand that will be on offer is GUBI. The famous Danish brand has created designs for many years and along the way they have created and recreated iconic models and innovative lamps. GUBI distributes the Bestlite lamp, designed by Robert Dudley Best in the 1930s, that has become a lamp icon since Winston Churchill used it on his desk during World War 2. Furthermore, GUBI has created functional and innovative lamps such as the Multi-Lite lamp with adjustable shades. If you're dreaming of a GUBI lamp, you should look forward to Black Friday where there will be lots of great offers on GUBI and Bestlite!


Offers on Lampe Gras Black Friday
Black Friday Lampe Gras Lamps. Black Friday SALE on quality brands at Andlight. The ceiling light Lampe Gras N302, the wall light N304, and the N210 and N222 wall light. Black Friday we lower the prices and you get crazy deals on designer lights. Buy lamps at AndLight, we have the Lampe Gras lamps you crave.

Lampe Gras has won the hearts of interior designers with theur simple design and focus on sustainability and discretion. The robust and industrial-looking lamps are used in countless design projects worldwide. Lampe Gras believes in the "less is more" philosphy which has taken them far. If you need a functional lamp for the bathroom, their N304 Bathroom lamp is one of the most durable and useful wall lights you can get for the bathroom.
Have you fallen in love with Lampe Gras, you should look forward to Black Friday where we offer good prices on Lampe Gras!



Offers on Muuto - Black Friday
Black Friday Muuto Lamps. The Muuto Pull Floor lamp, Muuto Unfold, Fluid Ø42 pendant, Ambit pendants, Grain Pendant or maybe the Muuto Leaf? Buy on Black Friday at AndLight, the prices are lowered and you get crazy Black Friday offers.

The youthful and contemporary brand, Muuto, has created a name for themselves in Scandinavia within a few years and their unpretentious designs fits perfectly in modern interior decoration. If you love Scandinavian design and quiet colours, Muuto is right up your alley. On Black Friday, we have lots of good offers on Muuto so you can find your favourite lamp at the lowest price here at AndLight!

Offers on Luceplan for Black Friday
Black Friday Luceplan Lamps. This Black Friday we offer great deals on high-end designer lights. Are you looking for the popular Luceplan Hope D66/18 pendant on Black Friday? Or perhaps the Luceplan Mesh Ø55 pendant lamp, or the ceiling lamp D66/12P Hope? Buy Luceplan lamps at AndLight on Black Friday at amazing prices.

Famous and iconic brand Luceplan keeps up a proud tradition of fantastic designs. The world-famous pendant Hope has impressed many design critics and is probably one of the most hyped lamps ever. Also the popular model Mesh is available from us and Luceplan has made many more great designs. If you have your eye on a Luceplan lamp, keep your eye on the product page on Black Friday where lots of good offers will appear.


We obviously celebrate Black Friday all over Europe
Even though we are based in Copenhagen, we naturally celebrate Black Friday all over Europe here at AndLight to bring you our great offers anywhere.

We celebrate Black Friday everywhere, including Black Friday Spain, Black Friday France, Black Friday Britain, Black Friday Finland, Black Friday Austria, Black Friday Germany, Black Friday Italy, Black Friday Ireland, Black Friday Holland and Black Friday everywhere. However, we are only present online which makes it super easy to shop from us. All you have to do is find your desired lamp on offer and order it, then we ship it to you.

Black Friday Dates

It depends on Thanksgiving, which Friday is Black Friday. Every year, Thanksgiving falls on the fourth Thursday of November and the day after is Black Friday. Below we have an overview of the dates of Black Friday in the next couple of years:

Black Friday 2020 - Friday 27 November.

Black Friday 2021 - Friday 26 November.

Here at AndLight.com, we are very much looking forward to Black Friday on 27 November 2020.

Best greetings
AndLight