Wall lights
Læs mere om Wall lights
Here you'll find a large selection of beautiful designer wall lights at amazing prices. Always delivered free off charge to your door. Wall lighting works in all rooms. As kitchen lighting, bedside lighting, lights in the hallway - you name it. At AndLight we offer all types of wall lights; flexible ones from Artemide's Tolomeo line that can be used next to the armchair or bed. We've also got less flexible ones like the Faretto lamp from Artemide that can be used in hallways. Browse through our selection below and see what's on the market, and hopefully get an idea of what designs that catch your interest.
Inspiration
Decorative, flexible, simple, and classic – with wall lights from AndLight you'll have plenty of opportunities to find exactly what you need. If you are looking for a exuberant and fantastic wall light, take a look at the Verner Panton Fun Wall Light. If on the other hand, you are looking for at flexible and modern take on the classic architect lamp, then take a look at the Fortebraccio series from Luceplan. Or maybe you need a simple and classic wall light, then find the always beautiful and classy Porcelight wall light.


What should I keep in mind?
When choosing the right wall lamp, it's important to be aware of the size and especially the width of the room, for example in a hallway. This is important as it determines how deep the wall light must be. If you have room for it and need a functional lamp, then the Schottlander Mantis BS2 would be a qualified guess. Or maybe something like Bestlite BL10 eller Bestlite BL6. What's most important is that you think about the type of light, the design of the lamp, and the size.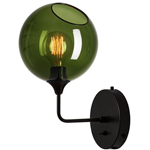 Quality and design
The design of the wall lamp should fit into the rest of the room. The design of wall lamps, scones, outdoor wall lights, bedroom wall lights and bathroom wall lights varies a lot. Also remember to scale up your dimensions – make sure you choose at light that fits to the size of the room, so the lamp won't look too big or too small. At AndLight we always make sure that our products are in top quality and we always make an effort to wrap up your package safely. And of course, we always offer free shipping.