Table lamps
Læs mere om Table lamps
Whatever table lamp you are looking for, we're here to help you. Besides functioning as lighting, the table lamp is a multifunctional item. A table lamp can be used in many ways, e.g. as a bedside lamp, a reading lamp placed in a cosy corner, desk lamp, or as a decorative object. You have the opportunity to create the mood you want, whether it's minimalism, warmth or exuberant colours. Want this and a good price? At AndLight we offer beautiful designer lamps to great prices with free and quick delivery. We stock lamps from well-known brands such as Flos, Artemide, Luceplan, Verner Panton, Lightyears, Le Klint, Kartell, Foscarini, Lampe Gras, and many more.
Inspiration
Depending on what type of table lamp you're looking for, AndLight is the place to find your table lamp. If you're looking for a versatile and flexible work lamp at your desk, check out our selection of Artemide table lamps here. If you'd rather like a classic architect lamp then you could take a look at the Italian lighting brand called FontanaArte. Maybe you want a unique table lamp that brings out a warm light and is produced in beautiful and natural materials? The TR26 table lamp from Tom Rossau might be something for you. With a beautiful shade made in birch wood and a cast of steel and aluminum, the materials give the TR26 table lamp a perfect combination of functionality and beauty.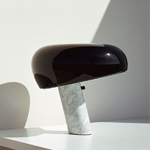 What should I keep in mind?
When choosing the right table lamp, we recommend you think about how functional you want the lamp to be. The level of functionality points to what brands you want to look at. Whether you should look at architect lamps from Artemide, Lampe Gras or Jake Dyson, or look at less functional lamps such as Louis Poulsen PH 2/1 and Louis Poulsen PH 3/2 and brands like Foscarini and Le Klint. Also remember to scale up your dimensions – make sure you choose at lamp that fits to your desk (or sofa table, or…), so the lamp won't look too big or too small.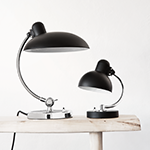 Quality and design
When purchasing a lamp at AndLight, you can be sure that it is original items and of great quality. We strive to make sure that the lamps, we sell, are living up to our high demands concerning design and quality. When we're expanding our selection, we only bring in design brands that contribute with quality and beautiful design. Designing new and innovative lamps is a tough job. But we believe that our manufactures are doing an incredible job and keep surprising us with their creative work. We are always excited to see what our present (and future) manufactures will create in the future.