Floor lamps
Læs mere om Floor lamps
Buying a new floor lamp means you're buying new furniture for your home. Colour, size, material, and the function of your floor lamp are all factors you must take into account. The floor lamp brings warmth, ambience, function, and decoration to your living room or bedroom. Browse through our selection of popular floor lamps, where you'll find tripod floor lamps, different lamp shades and standard floor lighting. Are you looking for a specific floor lamp, but can't seem to find it on our website, simply contact us and we'll most likely be able to order it for you.
Inspiration
A floor lamp is the perfect way to combine functionality and beauty. For example, when you need a good light for your reading corner – with a floor lamp you'll get a great light, but also a beautiful and decorative touch to your home. Are you looking for at lamp to fill out some space, then take a look at the Twiggy lamp from Foscarini. Or maybe you need a floor lamp next to your armchair, then take a look at the Porcelight floor lamp designed by Erik Magnussen. It brings a nice reading light with its porcelain shade and halogen bulb. You can also choose a floor lamp from Yamagiwa, which in itself is a piece of art!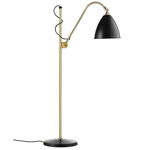 What should I keep in mind?
The floor lamp is an important tool when decorating your living room. A floor lamp can be tall, wide or short, which means that the size and height of the room determines what floor lamp is the right choice for your room. We offer a large and versatile selection of floor lamps; there's something for everyone. If you're in doubt about the size of the lamp, you can always stop by our showroom and get a better idea of the size of the lamp.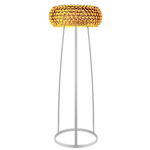 Quality og design
We offer many different styles and designs within floor lighting. This is of course because of the need of many different choices as everyone has individual taste and style. Remember, you can use your floor lamp for many purposes – for example as a bedside lamp, next to the sofa, in a corner, or as a desk lamp next to the desk. To pick out a few examples of our comprehensive selection, take a look at Schottlander Mantis BS1, Le Klint Snowdrop, Cph Lighting Eggy pop , and Tom Rossau TR7. These will give you an overview of what AndLight offers. We always secure the quality of the materials that our manufactures use.