4.7/5.0 stars
+2400 reviews
+10 000 high-end designs
365 days return rights
Pricematch on all your products
Official retailer of +100 designer brands

Buying a new
floor lamp
means you're buying new furniture for your home. Colour, size, material, and the function of your floor lamp are all factors you must take into account. The
floor lamp
brings warmth, ambience, function, and decoration to your living room or bedroom. At AndLight we have gathered a large selection of the most
popular designer lamps
and below, you can let your dreams of a new
floor lamp
run wild. If you're uncertain about your lighting possibilities or which lamp to choose to match your style, do not hesitate to contact us.
Inspiration for choosing a floor lamp
A floor lamp, also known as a standard lamp, is the obvious choice when you wish to combine function and beauty in your home decoration.

The correct lighting interacting with pretty materials and great design can do wonders for any room that needs new life and rich content.

If the distances between your furniture are big, then floor lamps are made for filling the empty spaces.

With the right light setting you can create exactly the atmosphere you want in your room – do you want it cozy and warm or bright and lively?

What is the purpose of your future lamp?
This naturally depends on the use and functionality that you want the lamp for.

If you need a reading light by the coach or armchair, an adjustable floor lamp is obviously a good choice as you get a comfortable reading light.

A beautiful and pleasant reading light could be the floor lamp Porcelight from Made By Hand that is designed by Erik Magnussen – it provides a lovely and calm light with its porcelain shade and halogen bulb.

You don't necessarily need a floor lamp as a table lamp is also brilliant as a reading light.

If you're searching for a floor lamp to fill the space and influence your home decoration with its great design and glamour, the Foscarini Twiggy floor lamp is an excellent choice.

Furthermore, Yamagiwa has a big selection of floor lamps and standard lamps that are pieces of art in themselves.

Lamps for any taste
It is difficult to find the right floor lamp so we suggest you look through our selection of more than 400 different floor lamps and standard lamps to find inspiration. We have all the colours, shapes and sizes you could possibly want.

There are many different lamps for the floor: low ones close to the floor and large ones with the light source well above the floor.

If you like a simple and elegant design, then the pretty Flos Glo Ball floor lamp is an excellent choice as it is very minimalistic and has a timeless design that will suit any home decoration. It's light is low down by the floor which makes it suitable as decoration and filling in the room.

Of more functional appearances, we have Bestlite's BL3 floor lamp series which is more raw and traditional in its appearance but also adjustable as needed.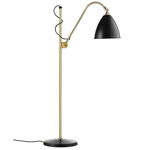 How to find the right floor lamp
A floor lamp or standard lamp is an important tool when decorating your living room and it can perfect the look.

Designer floor lamps can, as mentioned, be tall, wide or low which means that the size of the room and the surrounding decorations matter when choosing a lamp.

Hence, you should carefully consider what you want the functionality of the lamp to be so that your lamp will match your style.

If you're in doubt, you're always more than welcome to contact us. We are happy to help with questions relating to interior design and lamps.
A floor lamp as secondary lighting
A floor lamp is rarely used as the primary light source and is rather used as an addition to extraordinary pendants or unique ceiling lights which typically steal the limelight.

We have a wide assortment of pretty designer floor lamps so our selection covers all possibilities.

Keep in mind that the lighting options are essential to the way it is used, especially when it comes to a floor lamp to be used as a reading light.

For this, you would often prefer a warm, yet powerful light to allow you to read without straining your eyes.

Furthermore, you should be aware of "cannibalisation of light" and never place your wall lights behind or close to your floor lamp.

When it comes to appearance and design, there are tonnes of differents floor lamps to choose from among the over 400 floor lamps that we offer in our webshop.

If you need inspiration you should take a look at our various brands that each have their own unique approach to design and functionality.

AndLight recommends
At AndLight we recommend taking a look at Flos, Foscarini, Bestlite, Lampe Gras, Artemide, Secto to get you started when looking through our many popular lamp brands that you find at the top of the menu.

You will find standard lamps to suit any taste as we sell funny, traditional and new modern designer floor lamps as part of our assortment.

You can also buy lamps with or without a dimmer which increases the functionality and makes the possibilities of use practically endless.

The common thing for all our stylish lamps is the top quality you get without having to compromise on the price.

We are always ready with a good offer which makes it possible for you to find cheap floor lamps in our webshop at any time.

If you're unsure about the size of a lamp, you're welcome to drop by our showroom in Copenhagen for a cuppa if you're in the area. We are happy to give advice on your decoration and lighting options. If you're not near Copenhagen, send us an e-mail if you have any questions.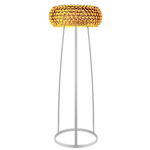 Floor lamps of high quality and great design
As mentioned previously, there are many brands of floor lamps and standard lamps which means that there is much variety in the functionality and shape of the lamps so you can be sure to find something that matches your taste.

At AndLight we have gathered more than 400 different designer floor lamps in the category. They match all styles and types of home.

You can use the filter to sort the lamps based on price, brand, colour and materials to help you easily find the kinds of lamps you are interested in.

Big selection
We strive to have a lamp assortment with excellent brands and designers that each have their unique charateristics.

Therefore, we have high demands to ourselves and our manufacturers that we carefully check out before we set up a new collaboration as we only wish to deliver lamps from the top shelf.

An extract of our floor lamps include the popular models Tom Rossau TR7, Flos Ktribe, Bestlite BL3 and Artemide Tolomeo.

The above mentioned standard lamps give an excellent overview of the quality we offer here at AndLight.

We always ensure that the quality of our lamps is top-notch and that the materials that our lamp manufacturers use are of good quality.

This does not mean that you have to spend a fortune on nice and stylish lamps for your home; we always have a good offer on floor lamps as well as table lamps, wall lights, pendants and all other lamp types.

The selection is unmistakable – it is wide – and you find all colours, shapes and sizes.

Don't hesitate to contact us
Whether you are decorating your living room, bedroom, children's room, corridor or maybe the home office, you are guaranteed to find the right designer lamp at a reasonable price in our webshop.

If you are uncertain about which size, model or type of floor lamp will suit your decoration, you are always more than welcome to get in touch with us.

Our customer service has many years of experience in lighting and designer lamps between them. If you're in the area, you can also drop by our showroom in Copenhagen where you can see the lamps in action.
See what our customers say about us
AndLight
has
9.2
out of
10
stars based on
876
reviews
.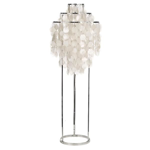 Floor lamps