Pendants and chandeliers
Læs mere om Pendants and chandeliers
We love pendants and we love chandeliers. Besides bringing light into the room, to a great extent pendants and chandeliers can be the most decorative utility item. Above the dining table or as the perfect lighting in your licing room. With the right pendant or chandelier, you can create any mood you want whether it's minimalism, warmth or exuberant colours. If you're finding it a little hard to decide, or you might need some advice, please don't hesitate to call us on +45 44 44 62 44. You can get a great overview of our pendants and chandeliers here. For example our popular Made By Hand Wokshop lamp.
Inspiration
We've got over 3000 different lamps in our selection, and we believe we've got something for you, too. To give you an overview, take a look at Luceplan Hope Pendant D66/18, Tom Dixon Cobber Shade Pendant, Secto Puncto 4203 Pendant, Tom Rossau TR5 Black Pendant or Lightyears Mingus Pendant 2. These lamps illustrate the different variants and designs we have. If you have any questions, please contact us – we are here to help you.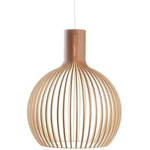 What should I keep in mind?
When choosing the right pendant or chandelier for your home, there are several factors you wanna take into account. Do you want light shining downwards or upwards as well? Do you want the pendant to have a warm or rather cold light, and what material should you choose? All these questions are important in order to find the right lamp. You are always welcome to come and have a look at the lamps in our showroom. This might help you in answering all of the above-mentioned questions, when choosing a pendant for your home.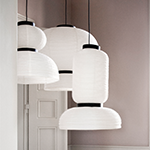 Quality and design
The design of a pendant is an important part of the decision and something that depends very much on individual taste and style, and in what context the pendant will be put in. At AndLight we try to establish a large and versatile selection, so everyone will be able to find something in their taste. The pendants are of great quality. We secure the quality by having continuous dialogs with our manufactures, so we can affect and make sure that they maintain their high quality.