4.7/5.0 stars
+2400 reviews
+10 000 high-end designs
365 days return rights
Pricematch on all your products
Official retailer of +100 designer brands

Read more about Pendants and chandeliers
At AndLight, we love
pendants
in great designs and high quality. Besides providing light in a room, there is no item in the house that can be used as decoratively as a pendant.
With the right pendant you can create exactly the atmosphere that you want – whether warmth and glow, minimalism, life and colours or something else, it all begins with your choice of pendant.
Choosing
the right pendant
or lamp can be difficult and the options are infinite so we suggest looking for inspiration among our
exclusive designer lamps
.
If you need help with lighting and decoration when choosing your pendant, do not hesitate to contact us on +45 44 44 62 44 or via e-mail info@andlight.com.
Inspiration for choosing a pendant
In our assortment of over 6000 different lamps, you have ample possibility of finding exactly the pendant lamp you're looking for. AndLight recommends that you take a look at the following lamps to get you started:

Luceplan Hope D66/18, Tom Dixon Cobber Shade, Secto Puncto 4203, Tom Rossau TR5 Black or Lightyears Mingus 2. The above lamps show just a segment of the different materials and shapes that are available today.

In the course of the past few years, metals and organic materials have gained ground and become trendsetting in the launches that we see ranging from the big brands to the small, upcoming lighting brands.

Here it's definitely worth taking a look at brands such as Flos, Gubi, Secto, Tom Rossau and Tom Dixon. We are certain that we can offer a lamp to suit any need. If not, don't hesitate to contact us.
Scandinavian brands
Within the realm of lighting, Scandinavian brands are emerging on the international scene during the past few years: with innovative ways of thinking of how to use a pendant, the materials used and the shape of the pendant.

This means that brands such as Muuto, Menu, &tradition, Normann Copenhagen, Verner Panton, Lightyears, Design House Stockholm and Northern Lighting have made their way into the world.

Thus, even more people worldwide have opened their eyes to Scandinavian design and taken it to heart.

At AndLight, we are incredibly thrilled at the international success of the above-mentioned brands as it allows them to launch even more fantastic pendants that we can then offer to you.
Large selection of pendants
The mentioned lamps and brands give you a small overview of the different variants and designs available on the market.

You can also use our filtering function - which you find to the left on a computer or tablet and in the drop-down menu on a smartphone - to find exactly the colour and material you want for your pendant.

You also have the option of choosing a specific brand if you've seen a pendant lamp from a certain manufacturer. If you, against expectations, haven't found exactly the pendant you want, feel free to contact us – we're here to help!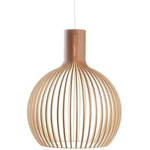 How to find the right pendant
In short, a pendant is a lamp that hangs from the ceiling. A pendant can also be called a hanging lamp but the technical term is a pendant or a pendant lamp.

A pendant often hangs from the ceiling in a cord but there are cases where the lamp is too heavy and it is necessary to have a metal wire from which to hang the lamp.

Pendants are sometimes confused with ceiling lights that - as opposed to pendants - are mounted on the ceiling. If you want a lamp mounted directly on the ceiling, take a look at our big selection of ceiling lighs.

You can mount a pendant directly on the ceiling with a swann neck, hook or light rail if the lamp doesn't have a metal wire.

If a pendant comes with a metal wire, the manufacturer will often include a mounting that the wire is connected to and a comprehensive manual that is followed to mount the lamp.
The right pendant
When choosing just the right pendant for your home, there are some factors to consider: Do you want the pendant to have a direct or indirect light?

Do you only want the light to point downwards or is it important that you also get some light upwards in the room? Do you want a warm or cold glow? And which material do you want your pendant in?

There's a big difference in their functionality of use and in a home office, a desk lamp requires more care than a pendant.

On the other hand, a pendant is the obvious choice for the living room but you can still supplement with a floor lamp as a secondary light source. When you look at the bedroom, wall lights are often a more popular choice as they can also be used for reading.

In any case, there are many factors to consider when choosing a pendant lamp and you're always welcome to stop by AndLight's showroom in Copenhagen if you're in the area. We're happy to help you explore you lighting options with pendants. If you're not in the area, you can contact us via phone or e-mail.
Hanging a pendant
We at AndLight have made a guide for hanging pendants above the dinner table.

In the guide you can read about the different types of pendants, how many lamps we recommend to match the size of the dinner table and the height above the table.

Furthermore, the guide gives you an insight into mounting and choice of bulb of the pendant lamp doesn't have a built-in LED bulb.

The guide will thus give you an insight into choosing the optimal pendant and help you in the process of choosing the optimal pendant lamp for your home.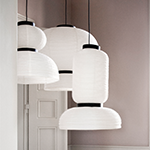 Pendants of high quality and great design
The design of a pendant is always an important part of the decision process and a factor that depends a lot on the taste of the individual and the context where the pendant will be hanging.

Here at AndLight we strive to offer as wide an assortment as possible to be able to offer exactly the design you want. The quality of our pendants is always top-notch.

We ensure the quality by having a continuous dialogue with our lamp manufacturers so that we know first hand that future pendants maintain a high quality and maybe become even better.

In other words, we only collaborate with lamp manufacturers that we believe offer designer lamps and pendants of the best quality that we feel comfortable selling the our customers.

If something against expectations shouldn't live up to the expectations of our customers', we offer 14 days' right to cancel and a further 2 years of full guarantee if the lamp was faulty upon receipt.
Lightyears Caravaggio
A lamp that we admire and that is made of good materials of high quality is the Lightyears Caravaggio pendant.

The lamp is available in four different sizes and 8-12 different colours depending on the size. The Lightyears Caravaggio P1 pendant is a sublime lamp to hang above the work surface as it provides a good, functional downwards light and a cozy, diffuse upwards light through the hole in the top of the lamp. For the dinner table, the Lightyears Caravaggio P2 series definitely works splendidly.

This size is optimal when it comes to the amount and spread of light above the dinner table.
Tom Dixon Beat
Another pendant that adds a little something extra to the room is the Tom Dixon Beat series. The Beat series is available in four different colours and four different shapes.

You have the option of combining the various colours and shapes to fit the desired expression.

You can use the pendant as decorative lighting in the living room or as functional lighting above the coffee table or counter if you have one of those.
Made By Hand Knit-wit
If you really want to create a cozy atmosphere in your home, Danish design brand Made By Hand has launched the Knit-wit pendant series.

This pendant is made of 3D-knitted yarn which provides a pleasant and calm light in the room. This pendant from Made By Hand can be hung in the living room to create a cozy atmosphere or in a big corridor and hallway as main lighting.

The Knit-Wit series is produced in four different colours and three different shapes.
See what our customers say about us
AndLight
has
9.2
out of
10
stars based on
876
reviews
.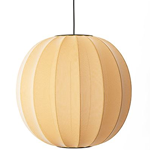 Pendants and chandeliers