4.7/5.0 stars
+2400 reviews
+10 000 high-end designs
365 days return rights
Pricematch on all your products
Official retailer of +100 designer brands

Read more about The bathroom
Lighting in the bathroom is important if you want to get yourself ready before heading out. Therefore, we have gathered a large selection of pretty designer bathroom ligths at AndLight - all at cheap online prices. Our assortment of bathroom lights is handpicked from the leading lamp manufacturers on the market, including Astro, Estiluz, Tom Dixon and In The Tube. If you're looking for a new lamp for your bathroom, you've come to the right place because we have bathroom lights in all shapes, colours and sizes to your excactly your needs. If you're looking for other types of lamps, do take a look through our selection of modern designer lamps.
Inspiration for the bathroom
You have countless possibilities when it comes to decorating your bathroom and with a large selection of bathroom lights, the decision is only made more difficult. At AndLight we have many different types of lamps for the bathroom and what suits your bathroom depends on the shape and size of the room. If you want a lamp to hang above or next to the bathroom mirror, then the Estiluz Smile wall light is a stylish and sophisticated solution. If you, on the other hand, want a lamp with an edge, then Astros Frascati could be an interesting option. Furthermore, we have spotlights from e.g. Paulmann and Astro that offer classic and stylish lighting. As opposed to a dinner table lamp where you want a low-hanging pendant, you want lamps close to the ceiling or wall in the bathroom. Therefore, spotlights are excellent and you can often use the same lamps for the kitchen and bathroom. Spotlights are highly flexible and functional and can advantageously be used as ceiling lights as well as wall lights. Wall lights in the bathroom are ideal if you have a large room where it's not enough with a ceiling light as primary lightsource. In The Tube's spotlights give you fantastic options with lighting on the wall of e.g. the shower if the primary lightsource isn't sufficient.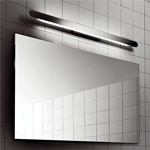 How to choose the right lamp for the bathroom
The lamps and lights in the bathroom are often one of the first things you see when you get up in the morning and one of the last things you see before going to bed at night. It is important that the beginning and end of your day take place in the best surroundings for you. Therefore, all our lamps for the bathroom are especially selected and of a quality that means they can maintain their beauty even it's humid or wet in the bathroom. The same is true for the bulbs you can buy here on AndLight.com. They are all certified for use in the bathroom so that you can enjoy your pretty bathroom safely. Before buying a light for the bathroom, consider whether you want it to hang from the ceiling, under the cupboard or maybe even on the wall as bathroom lights are available in many shapes and sizes. If you want it on the wall, take a look at Lampe Gras or In The Tube that have made some outstanding and eye-catching wall lights. Alternatively, you can choose a spotlight that can also be used as a ceiling light. If you want a common thread in your bathroom decoration, you can of course use the same spotlight as a wall light and as a ceiling light. If you need any technical information regarding the mounting of lamps in the barhroom, do take a look at our advice page where we explain in depth what you need to keep an eye on when it comes to lighting in the bathroom. See more here.
Bathroom lights of high quality and great design
When you buy a lamp at AndLight.com you can be certain that it's original lamps and that the quality is vouched for. This is true for bathroom lights and all other lamps, e.g.
a floor lamp for the living room
. The bathroom lights we sell are all from renowned manufacturers who, like us, prioritise quality and design highly. Hence, you will only find the best of the best for your bathroom on our site. When talking about quality, functionality is also very important in a lamp and not least for the decoration of your bathroom. Without light you can't see yourself in the mirror and without the right lighting it's difficult to get yourself ready in the morning. Powerful lighting is preferable and therefore
LED bulbs
are an abvious choice for your bathroom light. Even though we sell many lamps, we don't have every bathroom light on our site so if you've seen a pretty lamp elsewhere, you're more than welcome to contact us on info@andlight.com or +45 44 44 62 44 so we can try to get it for you. Should you have any questions regarding bathroom lighting, you are also welcome to contact us as our experts with many years of experience in lighting and sale of lamps will be happy to help you.
See what our customers say about us
AndLight
has
9.2
out of
10
stars based on
876
reviews
.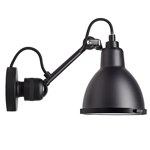 The bathroom