4.7/5.0 stars
+2400 reviews
+10 000 high-end designs
365 days return rights
Pricematch on all your products
Official retailer of +100 designer brands

Read more about Ceiling lights
Beautiful ceiling lights do something very special to a room. We offer a wide range of beautiful ceiling lights - from kitchen lighting to fluorescent light for the bathroom. The joy of a well-designed ceiling lamp with a beautiful light can last for decades! At AndLight you'll find a large selection of ceiling lights from all the best design brands – and to prices only AndLight can offer. Below you'll see our beautiful selection of ceiling lights and hopefully this will bring you inspiration and an overview of your possibilities. If you have any questions, feel free to contacts us at +45 44 44 62 44 or info@andlight.com.
Inspiration for choosing a ceiling light
At AndLight we make an effort to always expand our assortment of ceiling lights and we're always looking for new flamboyant lamp manufacturers that offer exclusive designer ceilling lights of good quality and great design.

Many people confuse ceiling lights and pendants. The difference is that a pendant hangs down from the ceiling whereas a ceiling light is mounted against the ceiling.

There are numerous ceiling lights and hence countless decoration options. In our current assortment, you may want to take a look at the following lamps: Luceplan Hope, Marset Maranga, Flos Glo Ball, Lampe Gras N312 and Foscarini Rituals.

A ceiling light is the obvious choice for practical rooms or rooms with low ceilings.
Rooms suited for ceiling lights
Rooms in the basement, corridors and kitchens are well-suited for ceiling lights, whereas a pendant is warranted in the dining room, above the dinner table or coffee table as they are typically more eye-catching.

You can easily benefit from supplementing your ceiling lights with outstanding designer wall lights that also work well in the types of room mentioned above.

Ceiling lights are typically very elegante and simple which makes them well-suited if you want a simple interior design, regardless of the room in question.

We have more than 250 different ceiling lights in our selection, so we are confident that you can find something to suit your taste and decoration style.

We also sell many different brands and some of the most popular manufacturers in the ceiling light category are Flos, Tom Dixon, Lampe Gras, Foscarini, MENU, HAY, &tradition, Artemide, Schottlander and Kartell.

They are all characterised by quality and exclusive design that can enrich any home decoration.

Always high quality
Even though we only stock the most beautiful lamps in our assortment, you will still often find good offers in our webshop.

You therefore have ample opportunity to find cheap ceiling lights that are still of high quality and great design.

A ceiling lights doesn't necessarily have to be limited to a single bulb as there are double and triple spotlights from e.g. Philips Hue.

The clever thing about a double or triple spotlight is that you can direct the lighting towards several angles and thereby light even a fairly big room with just one lamp.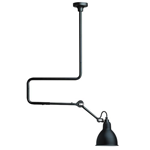 How to find the right ceiling light
First and foremost you need to evaluate the room where you want the lamp to hang – is your room not very tall or do you not want the lamp in the ceiling to take up too much space, then a ceiling light rather than a pendant is the right solution.

With a ceiling light you get the maximum exploitation of the space as it's very close to the ceiling – as opposed to a pendant.

Even though you might think that a ceiling light doesn't provide as good a lighting as a pendant, that is not necessarily the case.

You can easily find a ceiling light with a broad spread of light and if need be, you can put up several spotlights close together.

It is quite common to have several spotlights or ceiling lights in e.g. the corridor, bathroom or kitchen, depending on the size of the room.
Countless possibilities with ceiling lights
Whether you are looking for a lamp for the bathroom, living room, corridor, kitchen or a room in the basement, we have the right ceiling light for you.

Among our selection you will find more than 250 different ceiling lights of the utmost quality and great design.

You can find white, black and grey ceiling lights in a simple design as well as more prominent and eye-catching materials such as brass and chrome.

It can easily become a little overwhelming when choosing among our big assortment, but luckily we have a filter to help you sort the different ceiling lights based on the brand, price, colour and material.

In that way you won't have to sift through the entire selection of, say, colours and materials that you don't want for your lamp.
More inspiration?
Furthermore, you can benefit from looking through our other categories if you're looking for additional lighting – maybe our beautiful table lamps or functional floor lamps will catch your eye.

If you're still finding it difficult to decide which ceiling light suits your home the best, do not hesitate to contact us.

Our customer service has many years of experience with home decoration and lighting and they are happy to help you choose a lamp.

If you are in the Copenhagen area, you are also more than welcome to stop by our showroom to take a look at our ceiling lights.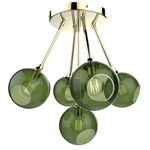 Ceiling lights of high quality and great design
At AndLight we are crazy about anything to do with lighting and home decoration which has made us experts in the area. Hence, we are very aware of the quality of the products we sell.

All our ceiling lights in this category are carefully selected among some of the most prominent lamp designers of the world.

There are many different types of ceiling lights and it's important that you know whether you are more into traditional ceiling lights that are mounted right against the ceiling, e.g. the popular Foscarini Caboche or if you prefer the new trends such as the Lampe Gras N302 and the Schottlander Mantis BS4.

Regardless, we have a wide selection of ceiling lights of all colours, shapes and sizes to suit your need.

Always a good offer
When you buy a designer lamp from us you are guaranteed good quality, great design and, if desired, good functionality.

Even though we value quality highly here at AndLight, it's not necessary to compromise on the price.

We always have a good offer on lamps, whether you are looking for a table lamp, ceiling light, floor lamp, pendant or maybe a wall light.

One thing is certain: quality and design walk hand-in-hand at AndLight and we care greatly, that all our ceiling lights contribute to this.

Therefore you will find a wide selection of different designs that cover e.g. funny, traditional, retro, classic and new modern ceiling lights for the entire house.

Do not hesitate to contact us
Lamps are a large part of your world and they affect your mood with the way the illuminate a room. Therefore, it's important that you don't compromise with the quality of your lamps.

If you are in doubt as to which ceiling light that suits your home, feel free to contact our competent customer service; they are very happy to guide you through your lighting options.

You can contact our customer service via e-mail or phone, or stop by our showroom if you happen to be in the Copenhagen area. Here you can see our fantastic and pretty designer lamps on show.
See what our customers say about us
AndLight
has
9.2
out of
10
stars based on
876
reviews
.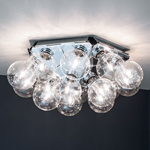 Ceiling lights