Ceiling lights
Læs mere om Ceiling lights
Beautiful ceiling lights do something very special to a room. We offer a wide range of beautiful ceiling lights - from kitchen lighting to fluorescent light for the bathroom. The joy of a well-designed ceiling lamp with a beautiful light can last for decades! At AndLight you'll find a large selection of ceiling lights from all the best design brands – and to prices only AndLight can offer. Below you'll see our beautiful selection of ceiling lights and hopefully this will bring you inspiration and an overview of your possibilities. If you have any questions, feel free to contacts us. Enjoy!
Inspiration
We're always expanding our selection of lamps – therefore we are always looking for new and exciting manufactures that can deliver great design and high quality. At the moment we have so many great brands that has created stunning lamps, for example Le Klint Swirl, Luceplan Hope and Marset Maranga. A simpler, but still stunning, lamp could be the lamps from Paulmann. If you can't seem to find the ceiling light you had in mind, please contact us and we'll help you find a ceiling light for your home.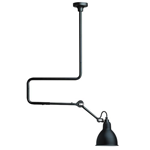 What should I keep in mind?
If you don't have high ceilings or don't want the lamp to take too much space, then you might want to choose a ceiling lamp instead of a pendant. There are plenty of ceiling lights out there, but of course we don't sell all ceiling lights. But we do have the possibility to order most of our manufactures ceiling lights. If you see a ceiling light somewhere else, then don't worry, we can most likely order it for you even though it's not on our website.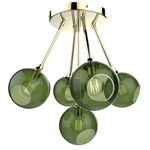 Quality and design
There are many different types of ceiling lamps. Maybe you like the classic ceiling lights placed close to the ceiling, e.g. Le Klint 26 or Foscarini Caboche. Or maybe you're looking out for new trends e.g. Lampe Gras N302 og Schottlander Mantis BS4. One thing is certain – we value great design and high quality. So whether you prefer classic or trendy lamps, we have made sure that our lamps are of great design and high quality.