Children's lamps
Læs mere om Children's lamps
With the right lamp, you can create warmth and ambience in the nursery or children's room. Children's lamps must bring a good and nice light, and most importantly must be safe for children to use. Here you'll find baby night lights, children's bedside lamps, plug in night lights, and kids' lamps. And your child won't have to wait long, as we have almost all children's lamps in stock. Shipped free of charge, of course. If you have any questions, don't hesitate to contact us at info@AndLight.com or call us on +45 44 44 62 44.
Inspiration
We've got children's lamps from Zoolight, Happylight, and Roomate, so you'll definitely be able to find a lamp for your kid's room that's decorative, fun, and brings a warm and nice light. In 2011, Zoolight launched a mini version of their normal sized Zoolight-series. In the mini Zoolight series, they built in colour scaled LED lights, so the light will change between 7 different colours when double clapping. Roomate has also launched a new take on children's lamps, for example their lamp "Town House" that looks like a small house with light shining out from the windows.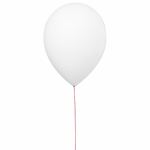 What should I keep in mind?
When choosing a lamp for your kid's room it is primarily a question of taste. The models illustrate mostly animals with kind and cute expressions. So the question is actually based on whether you're looking for a table lamp, wall light or ceiling light, and whether it should be a cat, giraffe, or teddy bear.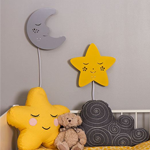 Quality and design
In our selection of children's lamps, we're very careful with our chosen manufactures and we don't select new brands very often. This is due to our high quality demands especially when it comes to lamps to children. We find it very important that the lamp is safely made and designed, so children won't be able to touch anything that possibly could cause danger. Our three children's lamps manufactures, Happylight, Zoolight, and Roomate, has all managed to design safe, yet fun and cute children's lamps, which is probably why they are highly popular.