4.7/5.0 stars
+2400 reviews
+10 000 high-end designs
365 days return rights
Pricematch on all your products
Official retailer of +100 designer brands


Read more about

Oi Soi Oi

Oi Soi Oi is a Danish brand which was created back in 2007 by Britt Goodall and Christina Thorbøll. Britt Goodall has lived in Hanoi, Vietnam for more than 20 years, where it also becomes clear that a large part of the inspiration for their lamps comes from. With a focus on combining the clean lines and simple designs from the Nordic style, with the colorful and exciting edge from the Asian corner, Oi Soi Oi has created an extremely interesting concept. The name Oi Soi Oi is thus also quite appropriate, as it is Vietnamese for '' Stop it! '', A thought you may have a hard time letting go of the beautiful lamps once you have spotted them.
The Indochina series from Oi Soi Oi
Oi Soi Oi has a long line of impressive and beautiful lamps that can be easily decorated in the home and will no doubt captivate and be a tasteful and stylish addition to the home. The range includes the interesting Oval, Pumpkin or Umbrella version, all three of which are part of the beautiful Indochina series. The beautiful colors of the lamps and the different shapes that each version has, make it possible to mix and match the different pendants so you can create your very own beautiful composition.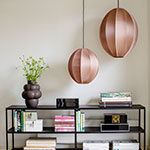 Designed behind the Oi Soi Oi lamps
Oi Soi Oi is produced and manufactured in Vietnam. The lamps are handmade in silk, and are therefore in delicious quality which could also be seen on the product itself. Often it will be traditional, family-owned workshops located in the vicinity of the Vietnamese capital Hanoi, which handles the task of producing the handmade, beautiful, and impressive silk lamps. The one founder, Britt, is also often to be found in Hanoi, where she can always ensure that lamps are also made in the best quality, so you always have a timeless and quality strong lamp in the home when you buy from Oi Soi Oi.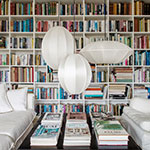 The story behind Oi Soi Oi
That Oi Soi Oi draws large inspiration from the Asian design world is not at all coincidental. Britt Goodall, who is one of the two founders behind Oi Soi Oi, has lived in Hanoi, Vietnam for more than 20 years, and was therefore not that far from the Asian design world. Oi Soi Oi was started in 2007 by Britt Goodall and Christina Thorbøll, and has today created a large assortment of interesting and beautiful products for the home.



Oi Soi Oi