4.7/5.0 stars
+2400 reviews
+10 000 high-end designs
365 days return rights
Pricematch on all your products
Official retailer of +100 designer brands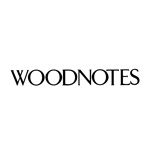 Read more about

Woodnotes
The family owned textile company Woodnotes, was founded back in 1987 by textile designer Ritva Poutila and her son Mikko Puotila. Woodnote's focus on quality as well as their different approach to their products, has helped to make them a world-renowned and widely recognized company, which has also won numerous awards for their innovative products. The original idea behind Woodnotes was to "combine artistic creativity, inspired by Finland's rugged nature, with valuable craftsmanship". With this in mind, they created their innovative and inspiring carpets of paper yarn.
Carpets of paper yarn
One of the striking things about Woodnote's products is the material from which they are made. When one thinks of carpet, one would normally think of wool. However, one finds that many of Woodnote's beautiful rugs are produced in the durable and dust-repellent paper yarn material. This gives the rugs a different feel and look, which is definitely a nice addition to the home. Woodnotes has a wide range of carpets, and should you have set your heart on a variant that we do not have online, you are more than welcome to contact us with your inquiry, as we sell the entire Woodnotes range.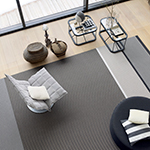 Products from Woodnotes
Although a larger part of Woodnote's range is focused on carpets, they also produce a number of other beautiful and very interesting products. Below you will find, among other things, the beautiful Twiggy coffee table. A coffee table that plays with visuals, via its intersecting oak sticks in the middle. Something that gives the table a nice and interesting look. Together with the transparent glass top, Twiggy is a very modern and stylish table for the living room, hallway or bedroom.
Woodnotes History
The main collection at Woodnotes is their beautiful rugs, which have been developed and adapted over many years. Woodnoter is the first company that has managed to incorporate paper yarn in a modern way. This creates a durable and beautiful product that can withstand the test of time. When Ritva Poutila and her son started Woodnotes back in 1987, they wanted to use paper yarn in their manufacturing process as it is a material with its very own character and quality. On the other hand, they did not want the paper yarn to be seen as a substitute for another material, but something that made their products unique. Something that they have been so successful with.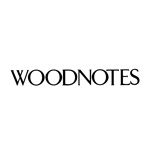 Woodnotes