4.7/5.0 stars
+2400 reviews
+10 000 high-end designs
365 days return rights
Pricematch on all your products
Official retailer of +100 designer brands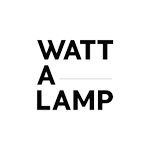 Læs mere om WATT A LAMP
WATT A LAMP has entered the Danish design scene brilliantly. Joining known designers such as Tom Stepp, Rikke Hagen and Andreas Lund, WATT A LAMP has managed to create a beautiful first collection of lamps. WATT A LAMP works from the general ambition of creating lasting designs that will accompany many timeless classics. Furthermore, WATT A LAMP lamps are designed and produced with love, hard work, an intelligent idea and an eye for new thinking and unique details.

Visit WATT A LAMP at www.wattalamp.com
Popular lamps from WATT A LAMP
WATT A LAMP's selection of lamps has one common denominator: they are incredibly well designed. Take a look at the Mush lamp, which is a very decorative table lamp that comes in several colours for every taste and is made in great quality. Another amazing table lamp is the Bend lamp that has built-in LED lighting, high functionality and is the perfect lamp for the creative consumer's workspace. With the Radio series, WATT A LAMP has made a lamp fitting right into this time's design spirit. Radio is both available as wall lamp and pendant and with its decorative and industrial look fit into most homes. Above you will find the rest of WATT A LAMPs beautiful selection of lamp that also includes Adjustable, Megaphone, Work, and Play.


WATT A LAMP's biggest designers
WATT A LAMP has managed to work with a string of talented, both Danish and international designers, to create timeless lamps, despite its relatively short lifetime. Designers like Tom Stepp, Rikke Hagen, and Andreas Lund. These are only three out of many designers that have contributed in their own unique way to WATT A LAMPs selection. The designers put their individual print on the lamps, and therefore the selection has an amazing diversity within the classic Scandinavian, timeless design tradition.


The Story behind WATT A LAMP
WATT A LAMP is the latest addition to the Danish design scene with lighting design and lamp manufacturing. The owner, Michael Waltersdorff, has been in the business for over 20 years, and has now chosen to go his own way, and has in very short time established collaborations with some of the best Danish designers. This has resulted in a very versatile and beautiful selection of lamps, and the brand has been very well welcomed both nationally and internationally ever since the launch in Paris 2015.
WATT A LAMP