Nude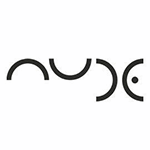 Read more about Nude
Nude designs and produces extraordinary glass design for the modern lifestyle. Nude's design aesthetic focus on simplicity, elegance, clean lines, and on the gathering of form and function. Nude surpasses all traditional boundaries for glass production, and treats the entire home as a sensual and comfortable space.
Nude is never afraid to take risks, as they find this to be the only way to create something truly inspiring. At the same time, they make sure to maintain a sense of simplicity and fun. Nude fearlessly explores innovative ideas; they are constantly curious, and are always creating dynamic collaborations with artists and designers. Nude's collections are designed for modern life; perfect for both special occasions and everyday life. A lamp from Nude will therefore always be both functional and beautiful. Nude only ever uses one material for their shades: lead free crystal glass. The glass shades are either hand- or machine-made; a delicate contribution to the world of lighting.

Find more inspiration here
Award-Winning Lamps from Nude
Nude's ability to combine clean designs with modern twists, has led them to numerable nominations and several award wins at both the German Design Award and the Red Dot Award.

One of their award-winning lamps, Blow, has an extraordinary design and a truly original shape. Blow is designed by the award-winning designer, Tomas Kral. The two parts of the lamp are attached with simple rubber bands that makes one think of a hot-air balloon. This simple connection creates a tension strong enough to sustain the lamp's stability, and it makes it easy to change the light bulb when needed.
The jury stated: "Simple and airy, though robust, it seems to float. Blow's design transforms the hot-air balloon design into a remarkable light fixture, full of grace, light, and poetic beauty."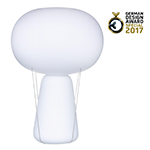 Nude's Design Team
The Nude Brand: Part of Sisecam Group

Sisecam Group is an industrial concern that does production activities in 9 countries and exports to around 150 countries. They operate internationally within glass, glass products, glass packing, and chemicals. Nude's unique designs are created by a team of very talented designers from all over the world. Together with top designers from Turkey and the rest of the world, Sisecam Group created their first global design brand, Nude.
The Story behind Nude
Launched in 2014 in Milan and Paris, with great seriousness and pleasure, Nude had from the very beginning a mission to design and create beautiful collections from lead-free crystal glass. Being very focused on detail has been essential, while at the same time creating space for relaxation and atmosphere. The glass designs from Nude decorates rather them overwhelm, and their amazing crystal glass adds beauty to any environment.