New Works Lantern
New Works has collaborated with many international groups of designers and artists that share their interests and passion for real materials and sculptural shapes. Now, with great joy, they can introduce the Lantern ceiling lights and the Lantern wall lights. New Works and Anderssen & Voll have launched the continuation because of the great success of the entire Lantern series. The collaboration has definitely been a functioning project since it started back in 2009. The lamp series is a modern example of what happens when an old shape and new materials are mixed. The Lantern series has created a good foundation for the collaboration and we are sure that this isn't the last thing we'll see from the two Norwegians and New Works.
See the rest of
New Works' lamp assortment here
.
Read more about New Works Lantern
The popular New Works Lantern lamp
The Lantern lamp is available as a ceiling light, wall light, table lamp, floor lamp or pendant. The lamp series is inspired by the iconic and traditional rice paper lamp that has its roots in China. All lampshades are made of opal white matted glass that gives the lamp its weightless, warm glow.

All Lantern lamps are equipped with either an E14 or E27 bulb. The continuation of the lamp series has been well received internally and externally and the collaboration between New Works and Anderssen & Voll can be said to be successful.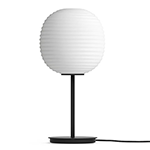 The designer behind Lantern from New Works
The lamps fra Lantern are designed with inspiration from the traditional Chinese rice paper lanterns. Torbjørn Anderssen and Espen Voll enjoy exploring new foundational objects to make the home more inspiring. The two designers found their partnership in 2009 in a self-founded company, Norway Says.

A prosperous collaboration with New Works has helped shape the lamps Lantern and Lantern Globe. The cultural interest is evident in their elegant and innovative lamps that the Lantern lamp really allows you to explore.

The story behind the New Works Lantern
Establisehed in 2009, Anderssen & Voll have created many sculptures and lamps that have been recognised worldwide. The Norwegian duo has always valued culture and a forwards-thinking strategy. This innovative marketing has created what we see in the Lantern lamp series.

A Chinese-inspired rice paper lamp has become a opal-matted glass lamp with either an aluminium or iron frame. This is what an innovative way of thinking can create - and both the consumer and New Works value this highly.