4.7/5.0 stars
+2400 reviews
+10 000 high-end designs
365 days return rights
Pricematch on all your products
Official retailer of +100 designer brands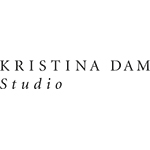 Read more about

Kristina Dam Studio
Since 2012, the Danish design brand Kristina Dam Studio has designed and manufactured simple, minimalist and stylish products, all of which are designed based on their design philosophy, Sculptural Minimalism. Kristina Dam Studio focuses on creating products that can help add edge, charisma and character to one's home. To achieve this, Kristina Dam Studio draws inspiration for their designs from several different styles. Below you can find products with inspiration from both Bauhaus and Japanese styles. The characteristic of Kristian Dam Studio's products is the clear Scandinavian and architectural design tone which makes them unique and simple.
Popular products From Kristina Dam Studio
Over the years, Kristina Dam Studio has created a large and interesting range of products, where you can find a wide range of unique and special products for the home. Among other things, their popular Bowl series is a good example of this. The stylish Bowl products are made of glazed terracotta, and come in four different sizes. Each product in the Bowl series is also made with a transparent waterproof film on the inside, making them ideal for placing plants or flowers in.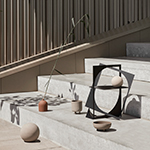 Sculptural Minimalism
Sculptural Minimalism is a term used by Kristina Dam Studio to explain their design style. All products in their design collections are created from this mindset which also provides a unique balance throughout their range. Sculptural Minimalism means that all their furniture is made of natural and solid materials, and that Kristina Dam Studio only uses a monochrome color palette, or the material's own natural color. This minimalist approach to design creates a beautiful and stylish range that radiates quality.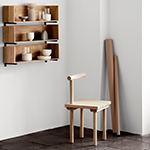 The story behind Kristina Dam Studio
With a degree from the Royal Danish Academy of Fine Arts for Architecture and Design, Kristina Dam founded back in 2012 the Danish design brand, Kristina Dam Studio. As part of their first range, Kristina herself designed an exclusive collection of Limited Edition illustrations, which quickly won large love in Scandinavia. Today, Kristina Dam Studio has developed their range to include a wide range of quality products, which are basically built around simple, minimalist and graphic lines. Even today, Kristina also continues to design products, which every year results in two collections designed by Kristina Dam from start to finish.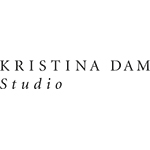 Kristina Dam Studio