4.7/5.0 stars
+2400 reviews
+10 000 high-end designs
365 days return rights
Pricematch on all your products
Official retailer of +100 designer brands

Read more about Karman
Italian Karman is a collective of talented designers who, with their avant-garde approach to lamp design, will undoubtedly gain a foothold in the Danish market. Quality serves as a basis for designers who love to experiment with such diverse materials as ceramics and wire for concrete and textiles. See for example Ceraunavolta and 24 Karati all produced by Karman. Karman's unique and original lamps can be experienced around the world from Rome to London and Paris to Mykonos.

Visit Karman's website for more inspiration www.karmanitalia.it
Popular lamps from Karman
Karman has an incredibly beautiful and versatile portfolio of lamps. If you take a look at their range, you will find lamps such as Amarcord, Ceranavolta, Mek, Pietro, Sahara and Karati to name just a few of their most famous lamps. The latter pendant, 24 Karati, is a well-designed lamp that, with its beautiful, aesthetic glass shade, contributes something different while being classic and timeless.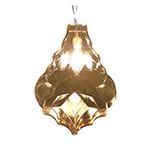 Karman's greatest designers
At Karman , you will find established designers who create new trends, and younger, budding artists who create alternative styles and approaches. Matteo Ugolini, who also serves as Art Director for Karman, is the artist behind some of Karman's most popular lamp designs, Karati and Sahara. Ugolini is just one of a series of design icons that are making their mark on Karman. Laura Alesi and Stefano Bizzarri have also added beautiful designs to Karman's exciting portfolio.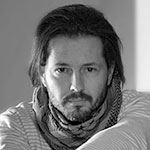 The great story of Karman
'The secret of this specialty: insanity must be shining.' - Davide Diamantini, Karman CEO
The Italian lamp manufacturer Karman was founded in 2005 in Fossombrone, in the heart of the Marche region. At Euroluce in Milan in 2014, the world really got its eyes open for Karman's beautiful lamps and since then, Karman has developed tremendously. Today, Karman is proof that a company with a strong identity can get away with being a little unconventional, which is completely in line with their philosophy that creativity should be spiced with good taste, passion, self-irony and a small bit of insanity.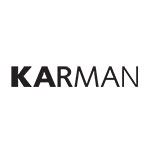 Karman