Guidance and advice
Read more...
At AndLight we find it very important that we're able to guide and advise our customers. In this section, you'll find answers to a bunch of technical questions.

If there's something you can't find the answer to, then you're always welcome to call us on +45 44446244. We have qualified employees ready to assist you with good advice and guidance to help you answer all your questions.
Choice of bulb
In this section, AndLight will give you an overview of our selection of bulbs and the advantages of these.

LED bulbs from Philips:
When talking about LED lighting, we've noticed a general misunderstanding, which is that LED give a cold light, like the light from a fluorescent tube. Due to technological advances you now have the opportunity to buy LED bulbs with the same warm and pleasant light as a halogen bulb or incandescent bulb. Colour temperature of LED lighting is measured in Kelvin (K). That is why it is important to know what colour temperature you want when buying a LED bulb. We always recommend LED lighting with colour temperature of 2700 Kelvin, which is the bright, warm light known from halogen and incandescent bulbs. With a bulb of 2700 Kelvin, you'll have nice, safe, and calm lighting. If you need even warmer light, like the temperature of a flame, you should go for a bulb of 2200 Kelvin. With a bulb of 2200 Kelvin, you'll have glowing light, which can be nice to have in the bedroom. On the other hand, if you want a more functional atmosphere, then pick a bulb of 3000 Kelvin. Here you'll get a brighter and more white light, which can be nice to have in the office to make sure no one's falling asleep.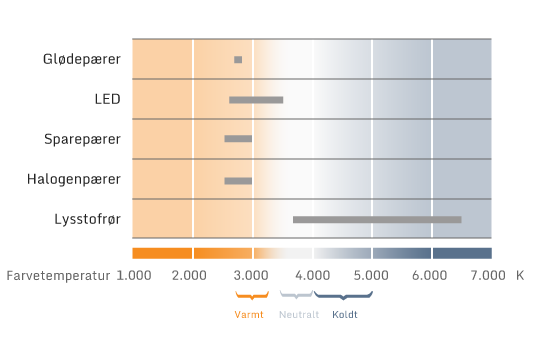 The Master LED series by Philips is AndLight's primary choice of bulbs. Philips' Master LED bulb gives a warm light you can dim, which create a welcoming and comfortable atmosphere. The Master LED series from Philips is the perfect alternative for halogen and incandescent bulbs. They bring the same beautiful and warm light but save way more energy. At AndLight you can buy the entire selection of Philips' bulbs, but we've chosen to have a standard selection consisting of bulbs that is most suitable for our large selection of lamps. If you need a certain bulb and you can't seem to find it on the website, just call us at +45 44 44 62 44 or write us an e-mail to info@ AndLight.com, and we'll order it for you.
Three great choices of bulbs with an E27 socket are all a part of Philips' LED bulb series. We're talking about 6W (40 W), 10W (60 W), and 13W (75 W) bulbs and they can all be dimmed. If you're looking for a bulb with an E14 socket, we will recommend you look at Philips' LED Kerte series. Philips' LED Kerte is available in 3,5W (25 W), and 6W (40 W). These are also dimmable. If you're still not convinced, take a look at Philips' LED Prisme series, which is a great alternative to the LED bulb series. The Prisme series brings a more sparkling light, but maintains the warm and calm colour. The bulb is very beautiful whether it is turned on or not – a great match for more decorative lamps.

LED bulbs, pro's:
During the last years, we've witnessed a rapid development within LED lighting. This has made it possible to have beautiful, warm, evocative, and functional lighting, while saving money on the electricity bill.
When choosing your LED bulb, make sure you know what colour temperature you want. Colour temperature of LED lighting is measured in Kelvin (K). On the picture below, you can get an idea of what colour a light has depending on its Kelvin degrees.
The picture shows Kelvin degrees going from 1000-7000. The scale indicates what we colloquially would call "golden", "warm white", etc.

If you want warm light, like from a halogen bulb, go for LED bulbs with 2200-3000 Kelvin.
If you want a natural and bright light, go for LED bulbs within 3100-4500 Kelvin. This interval is usually used when choosing light in stores, offices or workshops. Be careful choosing a bulb with that high degrees of Kelvin.
There're many advantages of LED bulbs.
We've made a list to light up (!) some of them:
1. Very low energy consumption – even better than a saving bulb.

2. Has a lifetime of 10-25 years, which corresponds to 25.000 hours consumption.

3. Cheapest overall – a bit expensive, but quickly recoups itself in saved current.

4. No start-up time like the saving bulb. LED turns on right away.

5. Excellent quality of light.

6. Does NOT contain mercury.

7. The LED bulb does not become hot, like the incandescent bulb.

Light diminution
If you want to dim your light, be aware that halogen bulbs are the only bulbs guaranteed to dim with the use of dimmers found on the market today.
Halogen:
Therefore, Halogen is the obvious choice if you want to be able to dim your lights. It's always nice to be able to dim the light to create the right mood in the evening. Besides dimming, you're also saving energy. But note that the energy you're saving is not moving along the dimming. So, if you dim you bulb to half the brightness, you won't save 50% but less.
LED:
Not all LED's are dimmable. It will always say on the box of your lamp. Be aware that not all LED's will work with the light control dimmer that has previously worked with halogen and incandescent bulbs. That means that in some cases, your light control dimmer will need to be adjusted so it will fit with the low energy voltage and the specific electronics in LED.

We carry a selection of LED bulbs that can be dimmed. Especially Philips has created high quality LED's that can be dimmed. They have made it easy to adjust the brightness, and LED has therefore become the ideal replacement of halogen and incandescent bulbs on many levels, such as performance, compatibility, and light. With dimmable LED from Philips, you can create the perfect mood.

We always recommend Philips LEDlustre, LED Corepro, LEDkerte and LED bulb. Find all of them right here.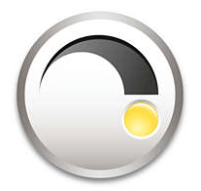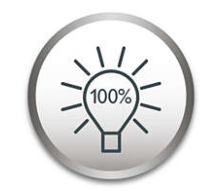 Energy-saving bulb:
Today you can buy dimmable energy-saving bulbs. But be aware of the information given on the box on the specific bulb. There are two types of energy-saving bulbs:
1. A type that can be dimmed through a regular light control dimmer and does not require much work.

2. A type that you can dim through the push combinations on the switch. It's very important that you read what it says on the box or the manual about the push combinations.

Make sure your dimmable energy-saving bulb works with your light control dimmer before buying the bulb. Sometimes the energy-saving bulb doesn't work with all light control dimmers for halogen and incandescent bulbs.
Halogenglødepærer:
Her har du ikke noget problem med lysdæmpning. Halogenglædepærer helt op til 230 V kan dæmpes som glødepærer. Her skal du ikke ud og anskaffe nye lysdæmpere. Vær dog opmærksom på at denne form for pære, bruger langt mere strøm ind de ovennævnte.
Lighting in the bathroom
As part of modern lifestyle, the bathroom has become a room where more and more minutes of the day are spent.

The best solution for a bathroom is completely up to the individual to decide. But some solutions are more recommendable than others. A great solution in the bathroom is general lighting from the ceiling – preferably between 5-8 watt per square feet, if you want an energy-saving bulb or 30-35 watt if you're using regular light bulbs. By following this recommendation, you will have a lux-level of 200-300, which is appropriate for bathrooms.
Furthermore, most people want lighting above the mirror. Remember your own personal taste and needs here as some lamps give more directional light than others. With that being said, we do not recommend choosing a directional light near the mirror and that you are aware of not placing the lamp too high above the mirror. When choosing bathroom lighting, remember to pay attention to shadowing. Prefer shadowless lighting as this gives a better spatiality.
The following section will give you an overview of the safety measures you need to know when choosing bathroom lighting. Special safety requirements for bathroom lighting:
When installing lamps in the bathroom, the distance between the lamps and the bath mixer is crucial. Make sure that the lamps you are considering for your bathroom are bathroom approved as compartment lighting.
The bathroom is divided in four zones. These four zones decide on which terms you can mount lighting. The zones go from zone 0 til zone 3. Zone 0 is the most wet part of your bathroom, whereas zone 3 is the most dry. Every zone has an IP-number connected to it that indicates the density of a lamp. The first digit of the IP-number indicates how strong the protection of dust is, and the second digit indicates the protection of water. The higher IP-number, the better protection.

Zone 0
The most wet part of the bathroom. Only use lamps that are intended to use in the inner part of the bathtub or shower with a minimum of IP67 and maximum of 12 volt.
Zone 1
This is the area above the bathtub or shower. Lights mounted max. 60 cm from the shower head must be IP44 or more.
Zone 2
This is the areas up until 60 cm from the bathtub or shower. See the picture, if you're in doubt. All lights in zone 2 must be IP44.
Zone 3
This is areas that are 240 cm from zone 2. That means, that all lamps that are mounted within 3 meters from the bathtub or shower must be IP20 approved. Make sure you are very attentive mounting lights in the bathroom as it is a tricky area. Therefore, you are only allowed to install lamps on your own in zone 3. In all other zones, you must have professional help. If you have any questions about IP numbers or a certain lamp, call us at +45 44 44 62 44 and we'll be happy to help you.
Outdoor lighting
The first thing your guests will notice, when arriving to your home, is your outdoor lighting. Therefore, what gardens lights or outside lights you choose are not unimportant. Keep in mind that outdoor lighting need to be sturdy due to its exposed location. The lamp will be placed in all types of wind and weather and must therefore be classified as IPX1. Remember that we are here to hep you! If you have any questions, just call us at +45 44 44 62 44. Find your outdoor inspiration here.
Be aware of the exposure of your outdoor lamp. Make sure that your choices of lights have necessary IP-number. The IP-number indicates the density of a lamp. The first digit of the IP-number indicates how strong the protection of dust is, and the second digit indicates the protection of water. The higher IP-number, the better protection.

When it comes to outdoor lighting, there are three important rules:
1. Under eaves, e.g. roof of the carport or the eaves of the roof, IPx1 is required.
2. Is the lamp mounted on a wall, make sure it is mounted 0,5 meter above the ground and minimum IPX3.
3. Is it a freestanding lamp or mounted beneath 0,5 m from the round, make sure it is IPX4 approved.
It is important that cords from outdoor lighting is either mounted on the building or buried. This is seen as a fixed installation, which can only be performed by a professional. Remember, that also means mounting or changing all outdoor lighting.