4.7/5.0 stars
+2400 reviews
+10 000 high-end designs
365 days return rights
Pricematch on all your products
Official retailer of +100 designer brands


Read more about

Fredericia Furniture
Fredericia Furniture is probably one of Denmark's most renowned furniture manufacturers, which over the years has designed, produced and created an incredibly large number of design classics that have won large love around the world. The Danish company has over the years worked with some of Denmark's greatest designers, including, Børge Mogensen, Hans J. Wegner, Nanna Ditzel.
The Spanish chair
The Spanish chair is a very recognizable Danish icon in the design world, and stands as a clear example of exactly the quality that Fredericia Furniture manufactures. The chair was designed by the Danish design legend Børge Mogensen, together with his good friend and collaborator, Anders Graversen, director of Fredericia Furniture (1955 - 1995). It was this partnership between Fredericia Furniture and Børge Mogensen that laid the foundation for Børge Mogensen's largest designs, including the Spanish Chair. A chair that combines Børge Mogensen's inspiration from Spanish furniture with Danish quality craftsmanship in an incredibly beautiful chair.

Fredericia Furniture has a very wide range of iconic products, and the Spanish chair is just one of them. Their catalog has some of the most well-known Danish design icons, and large parts of their products have been in production for several decades, a clear testament to their quality.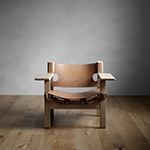 Hans Wegner, Børge Mogensen and Nanna Ditzel
Fredericia Furniture houses some of Denmark's greatest designers, ranging from Hans Wegner and Børge Mogensen, to some of today's greatest such as Cecilie Manz, Jasper Morrison and Space Copenhagen.

Fredericia Furniture has always been inspired by idea of long-term relationships with their designers, and that this helps to create a creative strength for both parties. Is a clear example that this way of thinking also gives success is their close relationship with Børge Mogensen.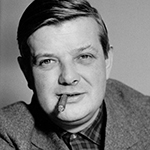 Danish traditions and quality since 1911
Since their inception in 1911, Fredericia Furniture has been a company that stood for quality and classic craftsmanship. This is still the case for the family-owned Danish furniture company whose philosophy is based on producing timeless furniture in solid quality, which over time only becomes more beautiful. A philosophy that is strongly inspired by Børge Mogensen's goal of creating simple and functional furniture that could enrich everyday life. From 1955 to 1972, Fredericia Furniture and the Danish designer had a very close collaboration. The collaboration between Fredericia Furniture and Børge Mogensen resulted in several iconic designs from Børge Mogensen, such as The Spanish Chair, J39 - better known as the Folkestolen and the famous Tremmesofa.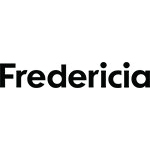 Fredericia Furniture