4.7/5.0 stars
+2400 reviews
+10 000 high-end designs
365 days return rights
Pricematch on all your products
Official retailer of +100 designer brands

Read more about Foscarini Caboche
Foscarini's lamp series Caboche consists of elegant lamps with spheres made of polymethyl methacrylate. The spheres encircle the light and these are available in either
transparent
or
gold
. The lamp has an inner shade in opalescent sandblasted glass, which prevents you from getting light in the eyes and at the same time gives a maximum spread of the light.
The popular Foscarini Caboche
With its elegant and not least exclusive expression, the Caboche series fits into the modern home. The lamp series consists of Pendants, ceiling, floor and table lamps. The many possibilities mean that there is a place for a Caboche in every home. The large pendants are well suited as lighting in the hallway and over the dining table. The large floor lamps fit into one of the many corners of the home and the small table lamp as well as the wall light fit into any room, they can be used as lighting at the bedside table etc.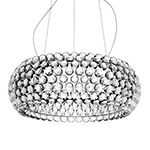 The designers behind Foscarini Caboche
Patricia Urquiola and Eliana Gerotto are the designers behind this unique lamp series. Patricia is Spanish and through her carrier works with big names and started in 2001 her own design studio. Eliana is Italian and has a background with experience in several areas. The two designers have the coincidence that they both studied in Milan and have a large talent in terms of design and architecture.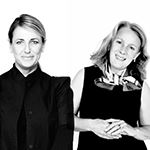 The story of Foscarini Caboche
Designers Patricia and Eliana have been inspired by this sparkling lamp by observing bracelets filled with pearls. The large wreath with the many transparent balls, gives a nice reflection of the light and looks like a large bracelet, filled with large beautiful natural pearls.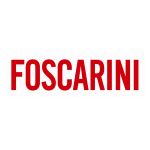 Foscarini Caboche