4.7/5.0 stars
+2400 reviews
+10 000 high-end designs
365 days return rights
Pricematch on all your products
Official retailer of +100 designer brands
Read more about Flos 2097
In 1958, Gino Sarfatti designed this pendant for the Italian brand Flos. Although this is many years ago, it is as popular today as ever. Flos 2097 is an elegant and unique chandelier, and you you choose between a core in
chrome
or
brass
. It comes in two sizes.
The large version
has a diameter of 100cm and consists of 50 bulbs, which together create a beautiful chandelier with beautiful lighting.
The small model
has a diameter of 88cm and has 30 light bulbs. The chandelier is in a light design despite the large number of light sources. Whether you choose
brass
or
chrome
, the wires that are also part of the design will be black. The bulbs themselves must not exceed 15 watts.
The popular chandelier FLOS 2097
For about 50 years. since, the Flos 2097 was designed, but the long life has certainly not made the lamp less attractive. 2097 is a timeless classic, which is available in two different sizes and comes in materials such as brass, chrome and matt black metal. The combination of the extremely prominent design and the many light sources gives a completely unique and not least exclusive expression to the room it is in. The large Lamp, can function as lighting over the dining table, in the living room or hallway etc.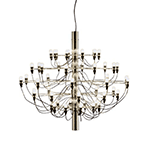 The designer behind FLOS 2097
Gino Sarfatti designed in collaboration with Flos in 1958, the world famous flos 2097, since then the Lamp has been recognized as one of the most unique and groundbreaking designs of the time. Today, it's unique design, still sold worldwide. The designer Gino Sarfatti is an incredibly talented designer who has dedicated his life to developing and designing lamps, he is known for being challenging and incredibly virgitg. He was a designer who always had to try his hand, with new materials and architectures, it has led to large recognition and many popular designs over time.
The story of FLOS 2097
Designer Gino Sarfatti wanted to create something groundbreaking, something you had not seen before. The desire was to create a lamp that was humble and powerful at the same time. The slim arms give the lamp a light and humble expression and the beautiful and very prominent materials combined with the many light sources give the lamp cancer and strength.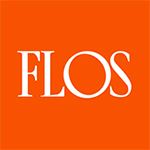 Flos 2097