4.7/5.0 stars
+2400 reviews
+10 000 high-end designs
365 days return rights
Pricematch on all your products
Official retailer of +100 designer brands
Read more about

Askman
The Danish Askman Design dates back to 1913 when Carl Alfred Askman started his furniture business, which created handmade furniture in Copenhagen. Since then, lamps have been added to the range and Askman is especially known for the Diamond lamp and the Zaphir lamp designed by Finn Kaerulff Clausen, with inspiration from Greenlandic icebergs. The sculptural wall lamps, which give a fantastic silhouette, are often used as outdoor lamps. They have a fantastic effect and throw the light up against the wall in the most beautiful way. At Andlight you can always find the well-known Askman lamps at the best prices.
Diamond the wall light from Askman Light
The impressive Diamond wall lamp from Finn Kaerulff Clausen has for many years been a popular choice as an outdoor lamp in many Danish households. The designer was inspired by the design when he lived in Greenland and was fascinated by the beautiful icebergs. In addition to its impressive design, the wall light emits an amazing light effect when lit. The light is reflected in the most beautiful way beyond the wall and the design thus becomes vibrant and atmospheric. The lamps are available in copper, zinc, black, or a nice mirror surface, so you can choose how the lamp fits your home. If you need a slightly smaller lamp, you may want to consider the little brother Zaphir, which is available in the same colors.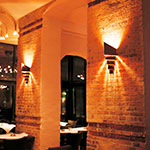 Askman Design - Traditional Danish design
Askmand Design has existed since its founding in 1913 when Carl Alfred Askman began making his own furniture, which primarily involved chairs and sofas. The company has been inherited by the family and you can still find them on the Esplanade in Copenhagen, to this day. In the late end of the 20th century, Askman also began producing lamps. In this connection, they allied themselves with the Danish designer Finn Kaerulff Clausen, who with his inspiration from his time in Greenland, created the well-known Diamond & Zaphir lamps. These quickly became a large success and still a popular choice as an outdoor lamp in many Danish homes.


Create silhouettes with Askman wall lamps
The hallmark of Askman designer lamps is their incredible power when turned on. Diamond and Zaphir outdoor lamps are known for their incredible ability to paint the wall they hang on with light. The overlapping shades are composed in such a way that the light escapes at the joints, resulting in beautiful light cones, which are thrown in several directions. This design adds a dramatic effect to the design that you can discover when darkness falls. In addition, the design itself is simple and beautiful so they can adorn your wall throughout the day. With the Askman wall lights, you are guaranteed a classic and original Danish design that works fantastically, both inside and out.

Askman