4.7/5.0 stars
+2400 reviews
+10 000 high-end designs
365 days return rights
Pricematch on all your products
Official retailer of +100 designer brands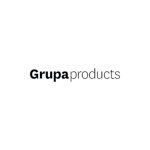 Læs mere om

Grupa Products
Grupa Products is a relatively young brand within lighting. Grupa Products started producing designer lamps in 2012 and has since then launched three different lighting series. The popular series from Grupa Products revolve around ILI-ILI, Arigato and Model. The ILI-ILI series includes different pendants in different colours and unique shapes. A truly amazing series that fits perfectly into Scandinavian-inspired homes. Another incredible series from Grupa Products is the Arigato series. The Arigato series offers table lamps, floor lamps, pendants, and wall lamps in black and white. The Arigato series has a beautiful industrial design, which is a stunning contrast to more clean lines.

Visit Grupa Products at www.grupaproducts.com
Popular lamps from Grupa Products
Despite their few years in the business, Grupa Products has already launched three interesting lighting series. The ILI-ILI series is a memorable lamp that works with both shape and the chromaticity of colour. The composition of different shapes makes every lamp seem unique and special, and it will adorn any home. The Arigato lamp series is in many ways very classic lamps, but with a modern twist. The lamp looks stylish in both work-related and professional settings with its industrial design and minimalistic look.
The Greatest designers from Grupa Products
Grupa Products is created by three designers that co-work on designing and producing lamps in the best possible quality. Ivana Pavic, Tihana Taraba, and Filip Despot are there in the entire process – from the drawing board to the manufacturing, which is characteristic for their work and philosophy. Before working together on Grupa Products, all three designers designed and worked for other brands in the lighting industry. The three designers' process is in their brand ID as they work as a design collective that thinks, creates, and works together.
The Story behind Grupa Products
Grupa Products is the story about three talented designers that in 2012 decided to take the head of the table and establish a lighting brand. Furthermore, it is the story of three skilful individuals that went together to put focus on innovative and minimalistic design and the functionality given to the customers. Due to the fusion of design and functionality, Grupa Products has worked their way into many homes, workspaces, and hotels all over the world.
Grupa Products