4.7/5.0 stars
+2400 reviews
+10 000 high-end designs
365 days return rights
Pricematch on all your products
Official retailer of +100 designer brands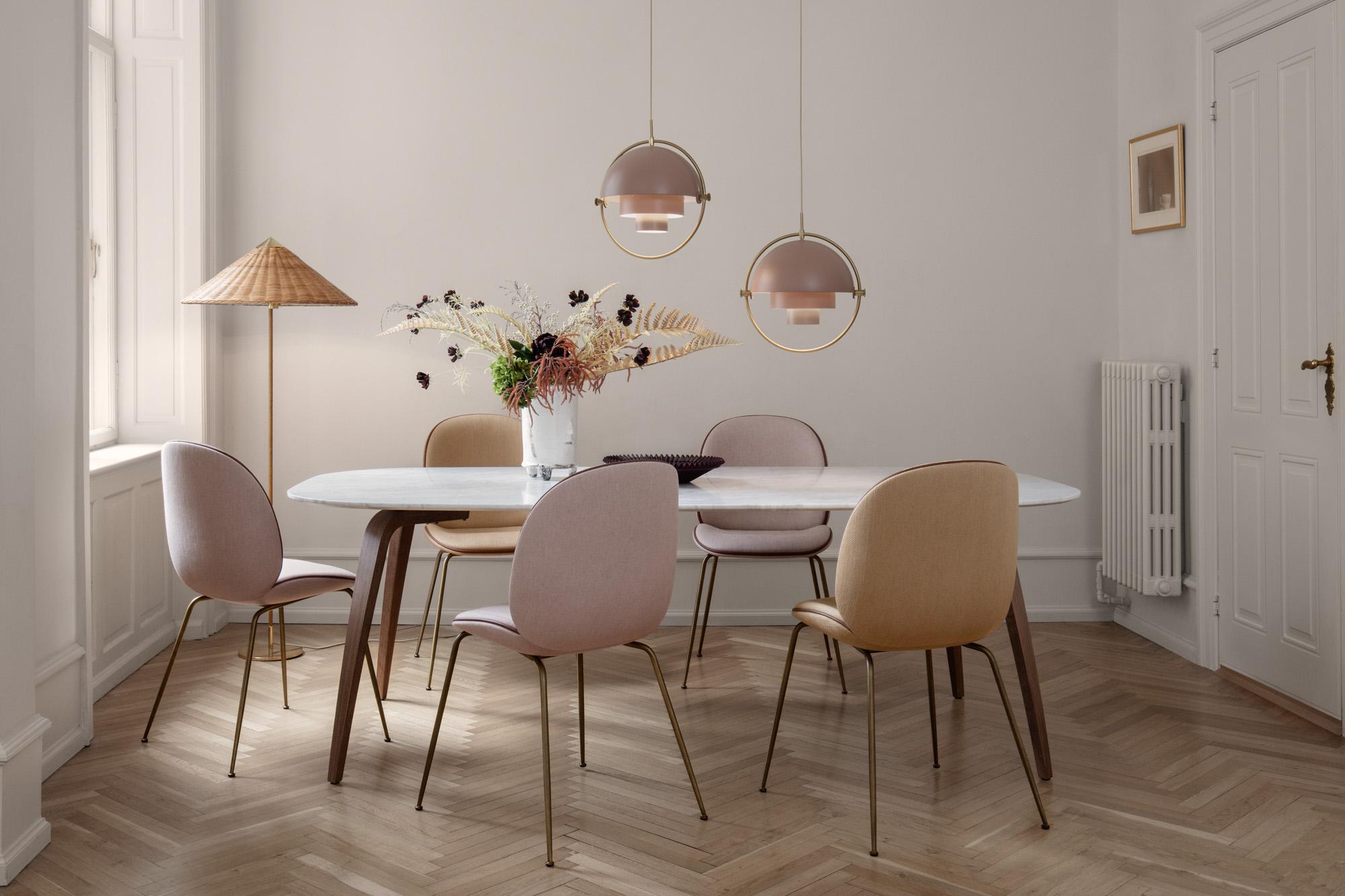 Read more about Dining table chairs
Dining chairs are often overlooked as an important piece of furniture. Not only are they used in your home, but they also have an important role to play in separating your home from others. In fact, it is a common misconception that dining chairs are only used to sit around a table and eat.

The dining chairs have a central place in your kitchen or dining room, and the comfort of the chair is extremely important - You spend about 4.5 years of your life eating, and it is safe to say that a good portion of this time will be spent around your dining table, so why not be comfortable? Our selection of designer dining chairs includes both comfortable and beautiful chairs from some of the most popular Scandinavian home brands. Experience a world of beautiful dining chairs in different materials, styles and sizes.
Popular trends for dining chairs
There are many different ways to style your dining chairs and a few things to consider. When it comes to colors, take your dining table into consideration. Is it light, is it dark? Is it round or is it rectangular - and do you want your chairs to add color, or do you want a more neutral and natural look in the room?

A popular style is to have bright wooden dining chairs around your table, perhaps with a seating platform made of basket or leather. Alternatively, choosing colorful velvet chairs can give a softer and more inviting feel to the space, helping you create an original atmosphere in your dining room. There are so many styles to choose from and you also need to think about the upholstery and how it feels and looks. We have a wonderful selection of many different chairs from our partners so you you choose the ones that speak to your heart.
Choosing the right dining chair for you
The very best chairs for dining make you forget all the other obstacles that stand between you and the meal that you long to indulge in. Choosing the right dining chair is not just about design, colors and materials. You also need to think about the height of your back, legs and whether you want armrests or not.

Having dining chairs that do not weigh too much is also always nice as you have to move them around a lot and you will be able to run off the table when you are done with the meal and have it a chat. The right chair for you is about your needs and the like, so take these things into deep consideration when choosing your perfect set of dining chairs. Have a good hunt!
Known dining chair designs you should consider
Our selection of dining chairs consists of some designs that have had such popularity that we can not help but recommend them to you. Popular designs that you might be considering for your dining table are the Beetle Chair from GUBI. This chair has everything you need in a dining chair, and there are several versions to you choose from - leather, velvet or plastic. The chair is a design classic from GUBI, designed by the Danish/Italian duo GamFratesi.

A contrast to this is classic Scandinavian design such as Drawn Chair from Hvidt & Mølgaard. This chair was designed in 1956 and contains everything Scandinavians love in a dining chair. Made of beautiful wood with a basket top, it feels natural and light and integrates easily into the interior. You can also get luxurious leather seat cushions to complete the comfort and the beautiful design, so you are clear to invite guests into your home for a wonderful meal.
Dining table chairs