Brand Week: Foscarini
This week, we're focusing on traditional and renowned Italian brand, Foscarini. Foscarini has created some of the most iconic and innovative designs of the lighting industry, and continues to be a mark of quality and innovation in the industry. Read the article and learn more about the amazing brand and their designs.
FOSCARINI
This week, we are putting focus on the renowned, Italian brand
Foscarini
. Foscarini has created some of the most hyped and iconic lamps throughout time and is to this day, a mark of innovation and beautiful design
Foscarini origins from the island of Murano in Venice, Italy, home to some of the best mouth-blown glass factories in the world. This expertise was put to use, when Foscarini created their first successful lamp
Lumiere
in 1990.

NEW MATERIALS
From 1990 up to the mid 90's, Foscarini primarily made lamps with glass screens. But when new philosophies and materials became present in the middle of the 90's, Foscarini moved production to the main country to work on new ideas and with the new materials.
After 2 years of research, in the year 2000, Foscarini has created a new material – a mixture of fiberglass and carbon fiber makes way for the models MITE and
TITE
, created by in-house designer Marc Sadler. These two models went on to win the Compasso D´oro-award, for technological innovation the year after in 2001.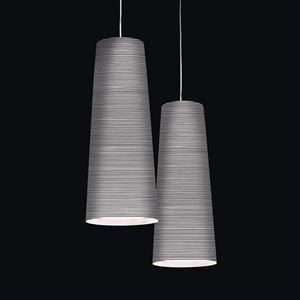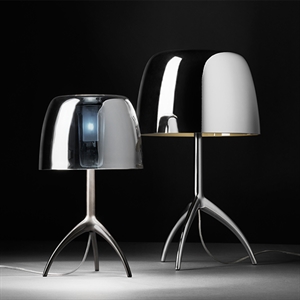 Tite 2 pendant by Marc Sadler                                      Lumiere table lamp by Rodolfo Dordoni
DESIGNERS
After some highly successful years in the new century, Foscarini had finally made a name for themselves and now began to work with world-famous designers.
Patricia Urquiola, who worked with other Italian brand
Flos
, created the popular and iconic lamp
Caboche
in collaboration with Eliana Gerotto. This lamp would prove to be just the right kind of design, especially popular in Scandinavia and USA where it was quickly adopted by design-lovers, making Caboche an instant, Italian classic. 
Foscarini Caboche is available in two colors –
gold
and
transparent
– and the lamp comes in many different versions (table, floor, pendant and ceiling). The lamp appears on the hit TV-show Modern Family in the home of Jay and Gloria.
The following year, in 2006, Marc Sadler created his famous floor lamp
Twiggy
. The lamp looks like an oversized table lamp and the screen hangs over the foot in a way that demonstrates perfect balance. The lamp is also available as a
pendant
or
table lamp
and the picture shows the modern
"grid" version
, that spreads the light and shadows in a net.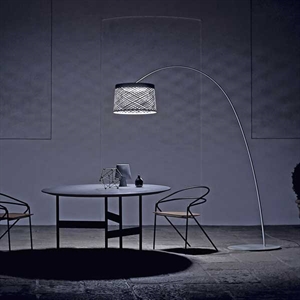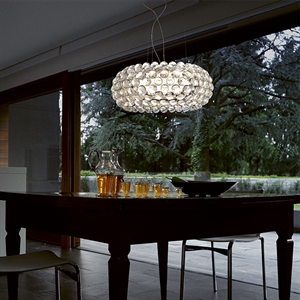 Twiggy Grid floor lamp by Marc Sadler                              Caboche pendant by Urquiola og Gerotto
In 2009 Vicente Garcia Jimenez presents the lamp
Le Soleil
. A beautiful and simple lamp with a lively structure in either a pendant or as a wall light. The lamp is offered in a
wild red color
, copper, bronze or
traditional white
. The lamp imitates a structure of stacked components and is made from Polycarbonate, to create a smooth and clear exterior. The lamp became very popular and since 2009 it has been a respected choice for the dining table all over Europe.
Since then, Foscarini has been part of numerous lighting conventions and displayed installations in some of the world's largest museums and showrooms. Furthermore, the brand has published several books and magazines about lighting design and the philosophy of the Italian brand.
Foscarini is without a doubt one of the most innovative and passionate lighting companies of the world. Their dedication to materials and design, made them an inevitable brand for anyone who knows about designer lighting. The prices are very fair, which gives everyone a chance to enjoy some of the most iconic designs without emptying their pension fund.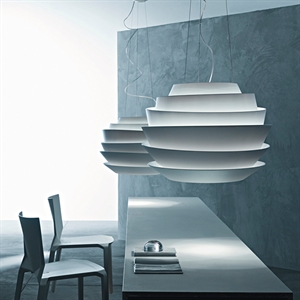 Le Soleil pendant by Vicente Garcia Jimenez                                   FareLuce - first book from Foscarini
Whether you've fallen in love with the
Lumiere
,
Caboche
or
Le Soleil
, you can explore our large selection on Foscarini's product page. Here, you can read more about the lamps and order your next Italian dream lamp.